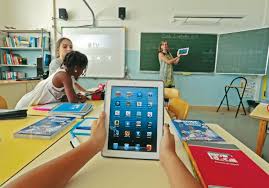 In preparation for the upcoming school year, Prime Minister Mostafa Madbouly met with Education Minister Tarek Shawki on Thursday to follow up procedures for contracting a new batch of educational tablet devices.
Madbouly stressed the importance of these tablets as well as localizing the industry in Egypt — particularly in light of repercussions emerging from the current spread of the coronavirus.
He ordered that contracting procedures for the tablets be finalized quickly, allowing them to be ready for students next year.
An agreement has been reached with an international company to manufacture these educational tablets in its Egyptian factory with investments worth US$70 million, Shawki said.
This comes under the company's plan to localize Egypt's electronics industry.
According to Shawki, 40 percent of the components of the devices produced in this factor will be locally made, with production dependent on Egyptian labor.
Shawki launched the tablet system in the 2018/2019 school year with the aim of modernizing Egypt's education. With these tablets, students can take exams via the internet and now, in light of the coronavirus crisis, attend their classes online.
Since his appointment as Minister back in 2017, Shawki has announced drastic changes to the Egyptian education system, from a full restructuring of the ancient "Thanaweya Amma" high school examination system, to randomizing exams to avoid cheating.
The minister is also working on digitizing the entire education system, while providing a more engaging learning experience that depends on interactive exercises, rather than memorization.
Under Shawki, students will also undergo open book exams, for the first time in the history of Egyptian education system.