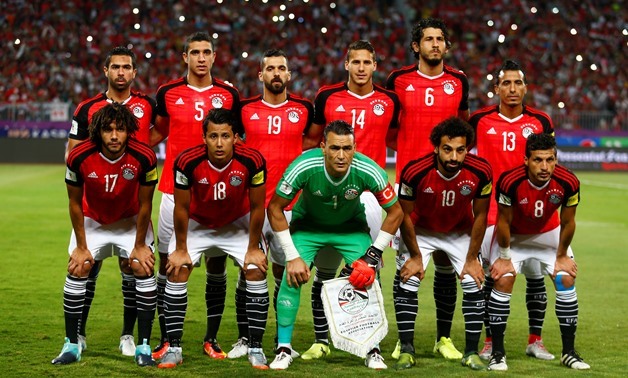 With just 14 days to go till the World Cup, the Egyptian Pharaohs will be meeting the Colombian team Friday night in a preparatory match prior to the highly anticipated World Cup.
 According to AS Spanish Sports Newspaper, the match is of vital importance for both teams as the Colombians get to play against Africa's best defense line,therefore having a chance to truly experience the effect of their lethal forward combination: Radamel  Falcao Garcia, James Rodreguiz and Juan Cuadrado
On the other hand, Egyptian National Team Coach Hector Cuper has chosen Mahmoud Trezueget as Mo Salah's substitute for the match, after closely examining his performance in training, reported Botolat Website.
Colombian Football Federation officials announced that their team will be having a closed camp in Italy, which is why the match is taking place there. The Egyptian team will be flying to Belgium after the match to face the Belgian national team on June 6, in the final friendly match ahead of the start of World Cup.
Egypt has been facing a rocky road in its preparatory matches for the World Cup, failing to win any of its three past outings. The best Egyptian result was a 1-1 draw against Kuwait. While the Pharaohs faced defeat against both Portugal and Greece.
Moreover, the Egyptian luck got worse after star forward Mohamed Salah was injured in the Champions League final between Liverpool and Real Madrid. While it has been reported that Salah might miss the World Cup due to the unfortunate injury. Liverpool's official website reported Thursday that the Golden Boot winner's recovery will only take three weeks, hence he would catch the World cup but will be missing the friendly match.
In striking contrasts, Colombia has been on form in all of its friendly matches ahead of the World Cup, boasting an unbeaten run. Additionally, Colombia has an additional reason for confidence as they have been placed in what promises to be one of the easiest group in the World Cup along with Japan, Senegal and Poland.
Egypt's World Cup group are Russia, Uruguay and Saudi Arabia. It is set to play its first match against Uruguay on June 15.
This is the first time the Egyptian team will participate in the World Cup since 1990, while Colombia advanced to the World Cup quarterfinals in 2014, the furthest they have ever achieved in a World Cup.