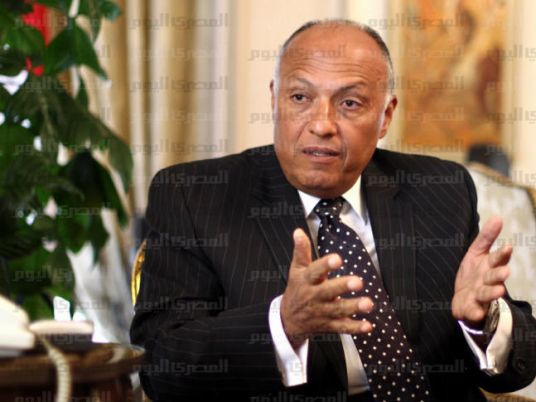 Egypt Foreign Minister Sameh Shoukry and his Sudanese counterpart Ibrahim Ghandour decalred their rejection of "the unacceptable excesses or abuse of either country, or the two brotherly peoples, under any circumstances and for whatever reasons or justifications."
A statement for Egypt's Foreign Ministry said Shoukry and Ghandour's consensus came during a phone call made by the former. The announcement came just one day after reports that Sudan is planning to deport Egyptian residents from the disputed Halayeb Triangle between the two countries.
The two ministers stressed that undue excitement and irresponsible reporting of issues by social media users and the media, who aim to damage their two countries' relationship, must be dealt with using the utmost wisdom consistent the strength, durability, and higher interests of the peoples of the two brotherly countries.
The Paris-based Sudan Tribune website reported on Monday that Sudan will develop a roadmap to eliminate Egypt's presence in the Halayeb triangle area.
On Sunday, the head of Sudan's Technical Committee for Border Demarcation (TCBD), Abdallah al-Sadiq told the semi-official Sudan Media Center (SMC) that a committee, which includes all the concerned bodies, has been formed to decide on the Halayeb triangle issue.
"The committee held a preparatory meeting to develop guidelines and a roadmap to explore ways to evict the Egyptians from the area [Halayeb] through diplomacy," he said.
In Cairo, members of Parliament responded harshly and condemned Sadiq's comments. MP Hatem Bashat said the remarks are irresponsible, adding that Sudan is bullying Egypt with possible influence from Qatar and Saudi Arabia, as officials from the two countries visited Khartoum recently — a sign that Sudan may make bold decisions.
Halayeb and Shalateen, also known as Halayeb triangle, is a border area that has been an issue of contention since the late 19th century.
In 1899, when Britain occupied Egypt and Sudan, the Anglo-Egyptian Condominium Agreement for Sudan set the political boundary between the territories at the 22nd parallel, placing the Halayeb triangle inside Egyptian borders.
In 1902, the British drew a separate "administrative boundary" that placed the Halayeb triangle under Sudanese administration because its inhabitants were closer to Khartoum than Cairo.
The Halayeb triangle, which includes the three main towns of Halayeb, Abu Ramad and Shalatin, stretches over 21,000 square kilometers.
The area remained under Egyptian-Sudanese joint control until the dispute resurfaced in 1992, when Sudan allowed a Canadian oil company to search for petrol in the waters off Halayeb. Negotiations began, but the company pulled out of the deal until sovereignty was settled.
Every now and then Sudanese President Omar al-Bashir makes a statement that Halayeb triangle is sovereign Sudanese land. Earlier this month, Bashir threatened to resort to the United Nations Security Council if Egypt refuses to negotiate over the Halayeb triangle.