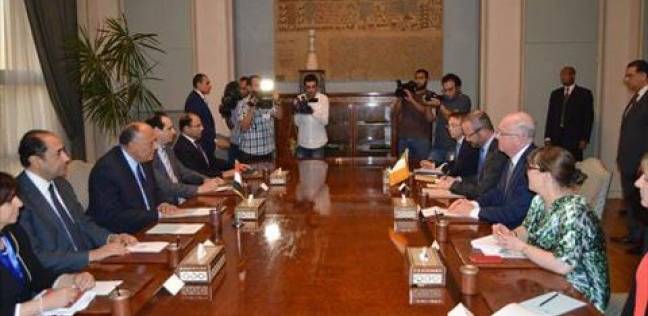 Egyptian Minister of Foreign Affairs Sameh Shoukry stated on Monday that Egypt is still waiting for a response from Ethiopia and Sudan concerning the initiative of letting the World Bank (WB) join the technical negotiations on the effects of the Grand Ethiopian Renaissance Dam's construction.
During a press conference with his Irish counterpart, Simon Coveney, in Cairo, Shoukry added, "The Renaissance Dam is a technical path. We have to deal with it from that point of view. We must also take into consideration the mutual interests of the three countries."
Shoukry recognized that the joint technical committee's framework agreement failed to fulfill the three countries' mutual interests. He added that Egypt refrains from creating tension with the other two countries, preferring instead to reach an understanding with them.
Shoukry noted that Egypt and Ethiopia currently prepare for the visit of Ethiopian Prime Minister, Haly Maryam Desaline, to Egypt in January.
Shokry commented on the Sudanese government's decision to summon its ambassador to Egypt, Abd Al-Mahmoud Abd Al-Hamed, saying that Egypt considers the appropriate counter-action and its implications on the bilateral Egyptian-Sudanese relations.
Egypt is keen on cooperating and consolidating bilateral relations with Sudan even after its recent statements which raised concerns about relations between the two countries, Shoukry affirmed.
Edited translation from Al-Masry Al-Youm