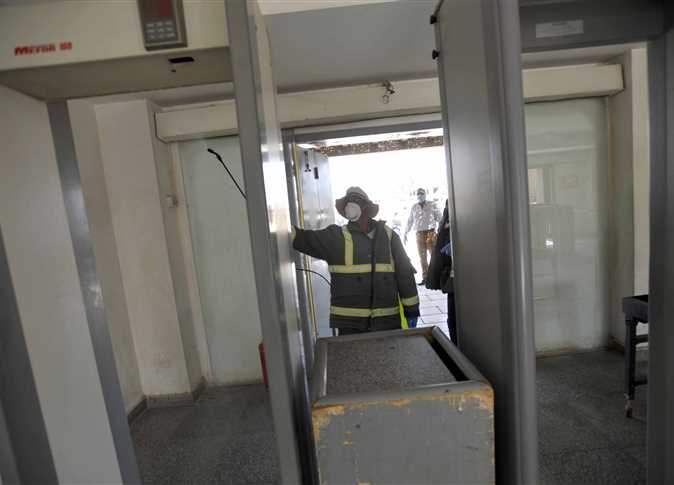 The Ministry of Local Development on Friday announced that around 54,948 buildings across Egypt have been sterilized and disinfected, while 4,257 shops were closed for violating health requirements.
The announcement came as part of a ministry statement regarding efforts made to prevent gatherings, cancel weekly markets, and close tutoring centers – all to help curb the spread of the coronavirus and preserve the safety of citizens.
According to the statement, 4,748 cafes and restaurants have suspended hookah smoking, 4,500 tutoring centers were shut down, 1,449 markets have suspended operation and 1,656 wedding halls were closed.
Precautionary measures to battle the virus continued across the country on Friday.
In Luxor, the director of the Veterinary Medicine Directorate Atef Aly announced the continuation of sterilization campaigns for all cities.
These campaigns include disinfecting the St. Bakhoumios Monastery, several government departments in Luxor, mosques and shops, he explained, in addition to sterilization and disinfection work on the streets of Armant city.
In Minya, youth participated in volunteer initiatives to sterilize streets, squares and public places.
In Kafr al-Sheikh, youth in the city of Desouk participated in a campaign to educate citizens about the seriousness of the virus while sterilizing and cleaning mosques, churches, and government departments at their personal expense.
In Qalyubiya, the local unit at the eastern district of Shubra al-Kheima dispersed a market on Teraet al-Shaboury Street, preventing traders from showing their goods. The authorities in the governorate also closed 650 tutorial centers as part of a joint campaign in cooperation with the Security Directorate.
Earlier this month, Egypt's Minister of Health Hala Zayed suggested picking Friday to be a weekly sterilization day, where buildings for public and private sectors, public areas and transportation nationwide are sterilized to battle disease.
Egypt's government imposed on Tuesday a two-week nationwide curfew from seven pm until six am beginning on Wednesday and extended school closures an additional two weeks to fight the spread of coronavirus.
Shops are now closed from five pm until six am during the week, while all stores will be subjected to a complete shutdown on Fridays and Saturdays.
All means of public and private transportation are suspended during curfew hours.
The closure decisions do not include bakeries, pharmacies, grocery stores or supermarkets outside shopping centers, and restaurants are limited to home delivery only.
Egypt's government initially shut down schools and universities on March 15 and has suspended flights from March 19 until March 31, though it has now been extended for further two weeks.
Authorities suspended Friday prayers and congregational prayers in mosques nationwide on March 21 and churches were closed across the country as well.
Egypt announced on Friday 41 new coronavirus cases and six additional deaths, bringing the total number of cases confirmed so far in the country to 536.
Thirty people have died from the virus in Egypt, as well as two senior military officers.
There have been over 600,000 confirmed cases of coronavirus worldwide and upwards of 27,400 deaths.