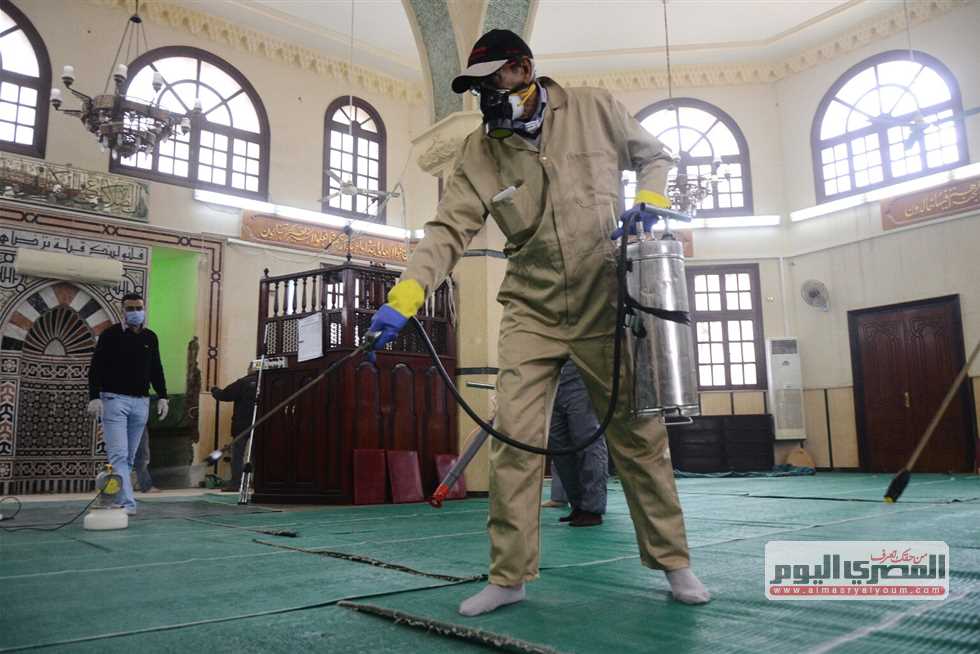 Egypt has undertaken a new phase to combat the coronavirus through a campaign to disinfect and sterilize government buildings, following an initiative from the Health and Population Ministry to perform weekly sterilizations in public buildings.
Minister of Health Hala Zayed had suggested picking Friday to be a weekly sterilization day, where buildings for public and private sectors, public areas and transportation nationwide are sterilized to battle disease.
In addition to sterilizing mosques, all toilets and places of ablution attached to them have been closed, with cold water dispensers shutdown alongside any drinking water tools.
Comprehensive disinfection and sterilizations continued throughout all facilities, subway stations and trains. Awareness messages were also broadcast on the internal radio at the stations, public buses, and seaports.
Friday prayers in Egypt's governorates saw an average turnout from citizens, with preachers urging citizens follow instructions to prevent infections.
Religious Endowments Minister, Mohamad Mokhtar Gomaa, delivered the Friday sermon at the TV Mosque in Maspero Building, stressing the necessity to respond to government instructions as the coronavirus crisis escalates.
Before prayers started, the minister warned worshipers not to shake hands or hug.
The government shut down schools for two weeks starting March 15 and suspended flights from March 19 until March 31.
On Friday Egypt announced 29 new coronavirus cases and one additional death, bringing the total number of cases confirmed so far in the country to 285.
Eight people have died from the virus in Egypt.
The World Health Organization (WHO) announced that COVID-19 was officially a pandemic on March 11.
There have been over 277,280 confirmed cases of coronavirus worldwide and upwards of 11,431 deaths.