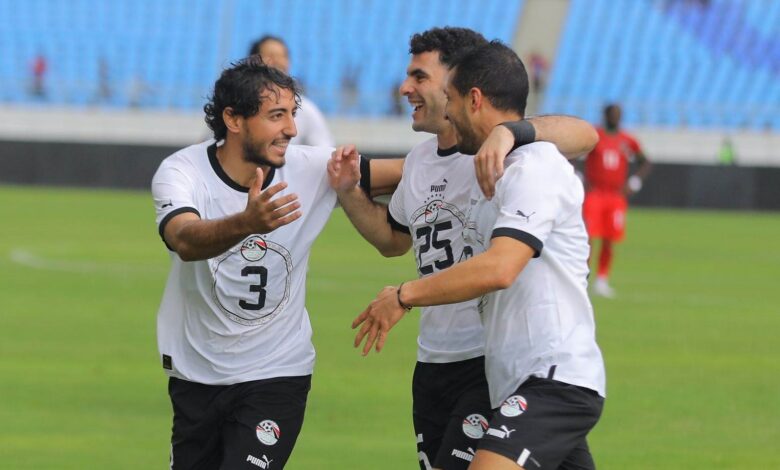 The Egyptian national team inflicted a crushing defeat (4-0) on its host Malawi at its home turf during the meeting that brought them together on Tuesday during the fourth round of the qualifiers for the 2023 African Cup of Nations.
Egypt faced Malawi in the second leg of the fourth round for the group stage in the  qualifiers for the 2023 Africa Cup of Nations on Wednesday at three PM Cairo time.
The return match was held at the Bingo International Stadium in Malawi.
The quadruple win of the Pharaohs team bore the imprint of players Tariq Hamed, Omar Marmoush, Mohamed Salah and Ahmed Sayed Zizou, in the 4, 16, 20, 50 minute marks respectively.
The Egyptian national team achieved its first victory over Malawi at its home and the second in a row in these qualifiers, to raise its score to nine points, and regain the top spot in Group D on goal difference from its Guinean runner-up.
The Guinea national team defeated its Ethiopian counterpart 3-2 at its own home, on Monday evening, as part of the matches of this round as well.
Malawi's national team suffered the third consecutive defeat, against one victory it achieved in the first round, and its score stopped at three points, and it sits at the bottom of the standings.
The Egyptian national team won the match against Malawi 2:0 on Friday evening at the the Air Defense Stadium, Cairo, in the third round of the Africa Cup of Nations qualifiers.
The goals of the Egyptian national team were scored by Mohamed Salah and Omar Marmoush, with the team occupying the group runners-up position after this victory.