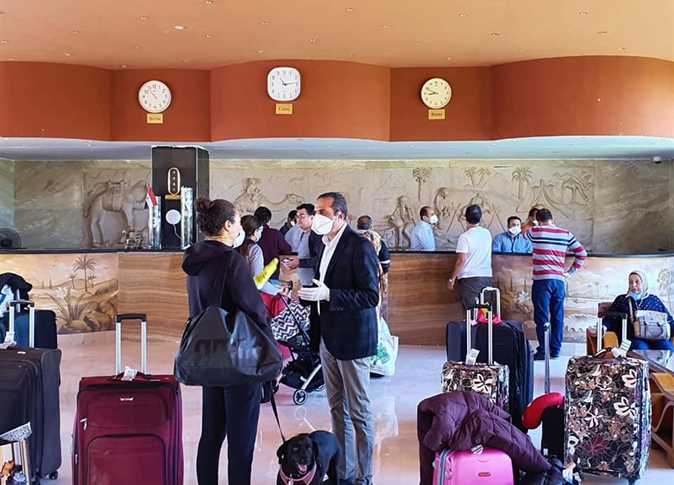 The Egyptian Civil Aviation Ministry announced Friday that it had sent 11 more charter flights from Cairo International Airport to return Egyptians left stranded abroad, after flights to Egypt were suspended since mid-March due to the coronavirus outbreak.
According to Civil Aviation Ministry sources, EgyptAir operated eight flights to Washington, Istanbul, Jeddah, N'Djamena, Riyadh, Kuwait and Dubai.
Meanwhile Air Cairo, which is affiliated with the Civil Aviation Ministry, operated three flights to Kuwait, Entebbe, Kigali and Khartoum.
Several of these flights will return to the Marsa International Alam airport and others to the Cairo International Airport.
Passengers returning to the country must spend 14 days in designated isolation areas decided by the Health and Population Ministry, according to the World Health Organization's recommendation to ensure that the returnees are free of infection.
The Civil Aviation Authority announced the suspension of air traffic, whether incoming or out of airports, since March 19.
Air cargo and charter flights, alongside international ambulance flights or domestic flights, were excluded from the decision to allow the return of tourist groups after the end of their programs.
Statistics conducted on the number of Egyptians returning abroad to Marsa Alam International Airport since April to Friday show that 28 flights arrived repatriating stranded citizens from over 30 countries, on orders from President Abdel Fattah al-Sisi.
These planes carried a total of 4,800 Egyptian passengers on board, the sources said, housed in 11 hotels and tourist resorts in cooperation with the the Egyptian Hotels Association and the Health Ministry.
Six coronavirus cases were discovered among these passengers.
Edited translation from Al-Masry Al-Youm