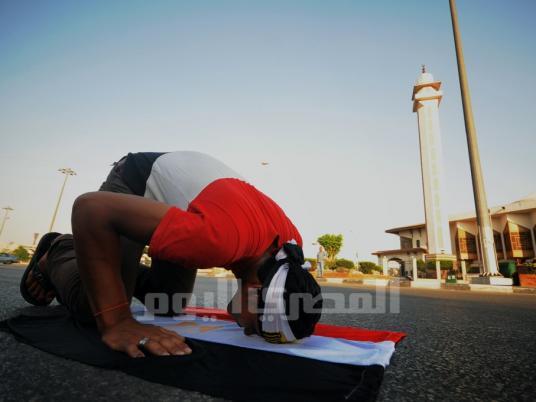 Egyptian officials are working behind the scenes to secure the dismissal of Iyad Madani from his position as secretary general of the Organization of Islamic Cooperation (OIC) following jocular comments last week that Egypt has interpretted as an insult to President Abdel Fattah al-Sisi.
Informed sources in parliament said that the Foreign Ministry and parliament's Committee on Foreign Relations are engaged in intensive talks on the matter, with several OIC member nations issuing statements in support of Madani's replacement.
The sources said that several countries have welcomed the Egyptian government's request, while parliament has been working to persuade Madani to step down before being dismissed.
MP Dalia Youssef, a member the parliamentary committee, told Al-Masry Al-Youm that she had called on OIC member states to remove Madani from his post after his "insult" to Egypt. She said the Saudi official is not qualified to lead a prestigious institution such as the OIC.
Youssef rejected the possibility of Egypt withdrawing from the organization, saying Egypt is a founding member and should not withdraw over offensive remarks of this kind.
"Individual offensive acts only represent individuals and not the official stance of either Egypt or Saudi Arabia," said Youssef, stressing that Egypt and Saudi Arabia need to maintain their strategic and political relations.
The row stems from an incident at a conference last week during which Madani, a former Saudi minister, mixed up Sisi's name with that of Tunisian President Beji Caid Essebsi, then apparently attempted to correct the mistake with a joke.
"Mr President Beji Caid al-Sisi. Essebsi… sorry. This is a big mistake. I'm sure your fridge contains more than water, your excellency," he told the Tunisian leader at the conference.
Madani was referring to widely derided comments made by Sisi this week in which he claimed that his fridge only contained water for around a decade.
Madani's remark was "a serious encroachment against a founding member state of the organisation and its political leadership," Egypt's Foreign Minister Sameh Shoukry said in a statement.
"Such remarks do not conform with the responsibilities and the duties of the organisation's secretary general position, and fundamentally affect his ability to carry out his duties," he added in the statement in English.
Madani, who has headed the 57-member bloc since 2014, has apologised, saying in a statement that he meant no "insult to the Egyptian leadership".
Edited translation from Al-Masry Al-Youm