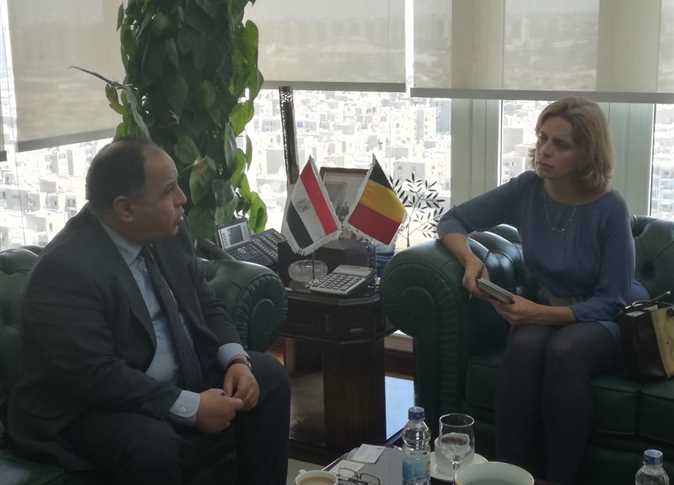 Finance Minister Mohamed Maait said on Saturday that Egypt's fiscal policy aims to raise economic growth rates to 6 percent in the upcoming fiscal year, following the recent rise to 5.5 percent and the government's success in achieving a balance of growth between different economic sectors.
Maait's remarks came during his meeting on Saturday with Belgian Ambassador in Cairo Sibille de Cartier.
The Belgian Ambassador expressed her country's readiness to provide support and assistance in various areas of reform adopted by the Egyptian government, as well as providing technical support to the Egyptian Finance Ministry to re-engineer tax procedures in applying the best and latest technological systems for the tax and customs services.
Maait said that the Egyptian government is keen to remove all obstacles facing Belgian investments in Egypt, and seeks to simplify all governmental procedures to support efforts to increase the volume and activity of Belgian investments in Egypt.
He added that his country is currently completing the economic reform program, implemented since 2016, to overcome numerous difficulties until the national economy is on track, highlighted by the positive results of indicators for economic performance and the state budget.
According to Maait, the Finance Ministry is working to establish a fair tax system with modern mechanisms and procedures, to seek complete automation of the work systems of the Tax Authority.
He pointed out that the Finance Ministry is also seeking to include the informal sector of economy under the state umbrella, especially as many studies indicate that this sector is about 60 percent of the size of the formal sector economy.
Maait said that reforming the financial and fiscal policy and ensuring their stability is an important factor to attract and increase investments, which will in turn contribute to raising rates of growth and low unemployment rates.
Edited translation from Al-Masry Al-Youm