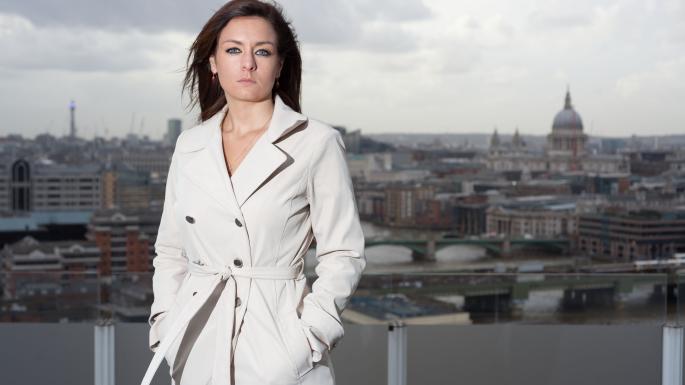 Egypt's State Information Service (SIS) defended in a statement released on Sunday the Egyptian authorities' recent decision to deport British correspondent for The Times Bel Trew from Cairo, accusing her of violating the regulations pertaining to the work of foreign correspondents in the country.
The British The Times newspaper reported on Saturday that security authorities in Egypt detained Trew on 20 February for a duration of seven hours and threatened to try her in a military court if she did not leave Egypt immediately. She was then put on board the first flight to London.
The Times quoted diplomatic sources as saying, "Trew has become undesirable inside Cairo and will not be allowed to return" adding that her arrest and the threats against her indicated that the incident was not a mistake by Egyptian authorities, and that they do not intend to allow her to return to Cairo to cover the presidential elections currently being held.
Trew had been living in Egypt for seven  years working as a foreign correspondent and had been writing for The Times for the past five years.
"I love Egypt and I cannot go back […] No one can say why," Bel Trew wrote in The Times. "The Egyptian authorities arrested me after an interview with a poor man whose teenage nephew was drowned while trying to travel on one of the immigrant boats to Italy two years ago," she said.
SIS criticized foreign media outlets that published the story, saying that they did not only republish and promote the story of Trew without any critical evaluation, but also used the incident to launch unsubstantiated attacks in a unprofessional manner on what it called the "suppression of freedom of the press, opinion and expression in Egypt."
"The journalist has been accredited to the press center of foreign correspondents for five years. She has not been questioned or taken into account, even once, of what she published in her coverage of Egyptian affairs, although it included many criticisms, professional errors and misinformation about what is happening in Egypt" the SIS statement read.
It added that Egypt, as the rest of the world, has a clear system for the accreditation of foreign correspondents working in the country, which requires that reporters receive a press card from the foreign press center affiliated to SIS, which is renewed annually.
It noted that 2018 cards for all foreign correspondents in Egypt have not been released yet and, therefore, temporary press cards were issued for all of foreign journalists until the permanent cards are issued.
The statement went on to explain that Trew did not contact the press center to extract her temporary press card for 2018, as all foreign correspondents accredited in Egypt should, while highlighting that she went to Cairo's Shubra area on February 20 – about fifty days after the start of the issuance of temporary press cards – without official press credentials to perform a journalistic job.
SIS further said that Trew committed other violations of regulations concerning foreign correspondents in Egypt when she filmed interviews in the streets without obtaining permissions from the relevant authorities. Due to these "blatant violations," the Egyptian authorities decided to deport the British journalist from the country.
Narrowing space for opposition and independent press
Journalists in Egypt have been under heavy scrutiny since former field-marshal and sitting President Abdel Fattah al-Sisi gained power in 2013 after mass protests against former Islamist leader Mohamed Morsi's rule. Sisi openly warned the media on March 1 that insulting the army and police would be considered treason. "I want to tell the media … if someone insults the army or police they're defaming all Egyptians and that's not freedom of opinion," Sisi said in remarks on Egyptian television, adding, "honestly speaking, defaming [the army and police], legally, for me now equals treason".
Local and international rights groups claim that Egypt is waging a sweeping crackdown on political dissent and independent media, with local media professionals routinely being harassed and detained. Hundreds of websites, including those of human rights  groups and prominent media outlets, have been blocked and the country's top prosecutor has called on his subordinates to monitor the media for "fake news". However, it is not common that a foreign correspondent working for a notable Western newspaper be detained and deported as in the case of Bel Trew.