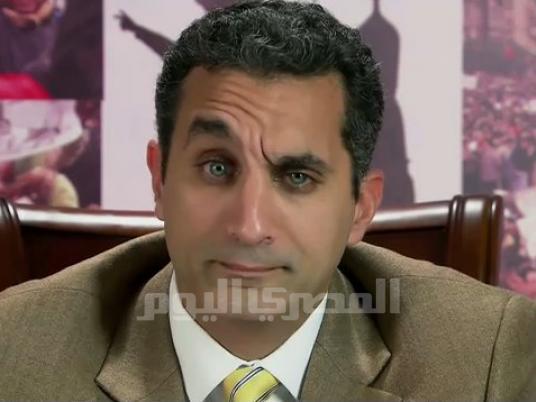 Satirist TV host Bassem Youssef spoke against nominating Defense Minister Abdel Fattah al-Sisi for presidency for fear that this would lead to people's hatred of the military.
Youssef, a vocal critic of deposed President Mohamed Morsy's regime, said in a talk show aired on privately-owned Mehwar TV channel on Saturday, "I refuse the nomination of Sisi for presidency because he is the leader of the army. Egypt needs him more as a military leader. The military should not intervene within politics. Whoever competes with Sisi in the elections will be competing with the military and the Defense Ministry, who no one can compete with. I fear that people will hate the military if Sisi does not achieve their dreams as they hate religion because of the Brotherhood."
In addition, revolutionary forces have not had power after 25 January or 30 June, he said, adding that the military toppled presidents Hosni Mubarak and Mohamed Morsy. "What happened was not a coup, but also not a full-fledged revolution."
"There are many disadvantages after 30 June. There is biased media that represents the viewpoint of the authorities and spreads violations by the police and the arrest of people," he said.
"Accusing whoever opposes of being a traitor is hysteria that should be stopped," he added.
Youssef explained that the 30 June revolution rescued the country from the Muslim Brotherhood, "and rescued me as well, as I was on the list of targeted people. There was no communication between me and any of the armed forces personnel."
Edited translation from Al-Masry Al-Youm