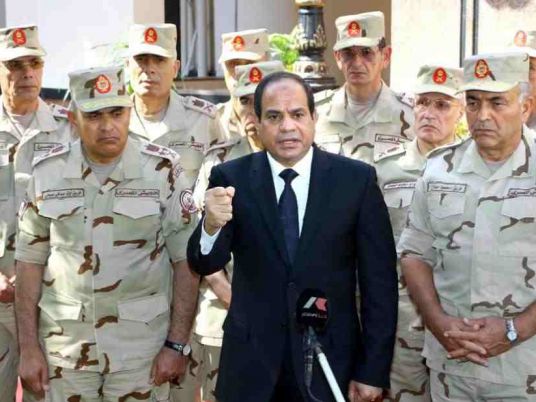 President Abdel Fattah al-Sisi warned Egypt would strike back at any militant threats to its security as he toured the border area with Libya on Wednesday, two days after Cairo bombed Islamic State targets there.
Sisi, accompanied by Defense Minister Sedki Sobhi, toured an air base near the borders with Libya to oversee measures aimed at securing his country's western frontier.
Egypt directly intervened for the first time in the conflict in neighbouring Libya on Monday after Islamic State released a video showing the beheading of 21 Egyptian Christians.
"He (Sisi) stressed that Egypt will continue to confront firmly any attempts aimed at compromising its national security," army spokesman Brigadier General Mohammad Samir said in a statement posted on his official Facebook page.
Egypt said Monday's pre-dawn strike hit militant camps, training sites and weapons storage areas in the neighbouring oil-producing country, where factional fighting has created chaos and havens for Islamist militants.
The 21 decapitations pushed Sisi into open action, expanding his battle against Islamist militancy in Libya not long after he appeared to be gaining the upper hand against militants in the Sinai Peninsula who support Islamic State.
On Tuesday, he called for a United Nations resolution mandating a U.S.-led coalition fighting Islamic State in Iraq and Syria to intervene in Libya.
Ahead of a U.N. Security Council meeting on Wednesday on the situation in Libya, Egypt's Foreign Minister Sameh Shukri met on Tuesday with ambassadors from the council's five veto-wielding powers – the United States, Britain, France, Russia and China.
Since the fall of strongman Muammar Gaddafi in 2011, a number of Islamist movements have taken hold in Libya. Recently, some have declared ties to Islamic State and claimed high-profile attacks in what appears to be an intensifying campaign.