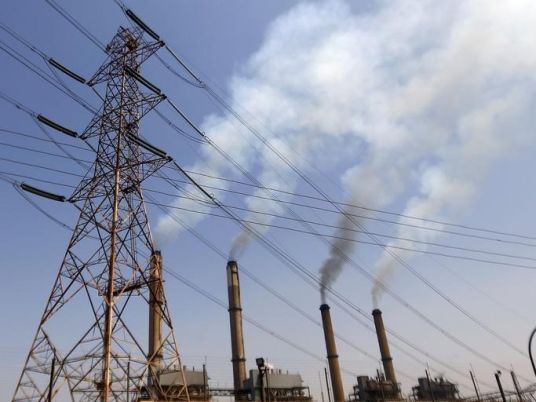 Far fewer Egyptians are complaining about the kind of power cuts that fuelled unrest in the past but government energy policies apparently focused on appeasing the public are dealing a blow to industries vital for economic growth.
Companies say production will continue suffering unless the government starts diverting some of the gas supplied to electricity plants powering homes to factories.
Research group Capital Economics estimates manufacturing output contracted by almost 30 percent year-on-year in June due to foreign exchange restrictions and gas shortages.
"Factories have been beset by power outages and (economic) activity has suffered," it said in a note.
Egypt's economy has slowed sharply in 2015, with growth falling from 4.3 percent at the end of last year, to as little as 2 percent year-on-year in recent months, Capital said.
The government's decision to keep power flowing to homes, especially during summer months when air conditioning units operate at full blast, is not surprising.
Energy is a politically explosive issue in Egypt. Even though a crackdown on dissent is keeping the streets calm, history suggests power cuts must be handled with care.
Blackouts deepened discontent with Islamist President Mohamed Mursi before the army toppled him in 2013.
"There were no power cuts caused by shortages this summer. Any cuts this summer were caused by technical failures and were fixed immediately," an electricity ministry spokeswoman said.
By contrast, last summer Egypt saw widespread shortages.
Analysts say government policy is short sighted.
"It's an understandable policy from a political standpoint," said Mohsin Khan, an economist at the Atlantic Council think-tank.
"But the power cuts to factories have led to a serious economic problem… By not providing gas for factories, you are cutting the potential growth rate of the economy, not just today but also tomorrow."
Ezz Steel, Egypt's largest steelmaker, last week reported a sevenfold year-on-year increase in its net loss for the first quarter of the year.
"The operating environment in Egypt remained extremely challenging for industry in general and for steel production in particular," Ezz Steel said.
Losses were "principally due to constant disruption of utilities and lack of natural gas", the company said.
The head of Egypt's cement producers' association, Madhat Stefanos, said the sector had lost about 40 percent of its capacity due to energy shortages last year.
Suez Cement, Egypt's largest listed cement maker, continued to suffer from scarce energy supply through the summer, Chief Executive Bruno Carre said.
Egypt's state gas board, EGAS, casts the gas shortages as a necessary ill that industry has to bear for now.
"Egypt's industrial sector understands that we must provide gas supplies for power plants," a senior EGAS official said.
The government says its efforts to boost imports of liquefied natural gas (LNG) and steps towards allowing coal usage will boost energy supplies.
But analysts believe that with domestic power consumption growing, the tug-of-war over energy will continue for the time being, and not in favour of industries.