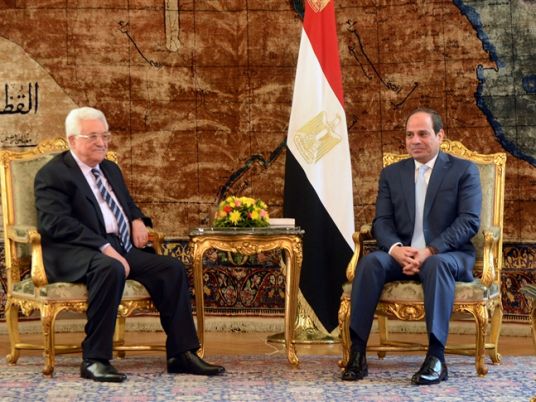 Palestinian President Mahmoud Abbas met with President Abdel Fattah al-Sisi in Cairo on Saturday for discussions on the Palestine issue and the prospects for constructive peace talks.
The meeting was attended by officials representing both the Egyptian and Palestinian sides, including Egyptian Foreign Minister Samah Shokry, Head of General Intelligence Khaled Fowzy, Secretary for the PLO Dr Saeb Areqat, Palestinian Foreign Minister Dr Riyadh al-Malaky and Palestinian presidential spokesperson Majed Faraj, among others.
According to a statement issued by Egypt's presidential spokesperson Alaa Youssef, during the meeting Sisi stressed that the issue of Palestine remains at the top of Egypt's foreign policy agenda, and that Egypt would continue to support international peace initiatives — such as France's recent efforts to find a just solution — in order to establish lasting and comprehensive peace.
Sisi upheld the establishment of an independent Palestinian state, with its capital in East Jerusalem, as a way to ensure a better, more stable situation for all countries and peoples of the region.
According to the statement, President Abbas expressed Palestine's appreciation for Egypt's great efforts to reach a peaceful settlement, to stop the bloodshed and to protect the rights of Palestinians. He welcomed the suggestions of the Egyptian leadership concerning the establishment of an independent Palestinian state in accordance with international law. He also acknowledged Egypt's unfaltering position in supporting Palestine over the decades and the sacrifices made by Egypt for the rights of Palestinian people.
The presidents exchanged views on recent international efforts to resolve the Palestine issue, in particular the meetings to be held in Paris on June 3, with 26 countries in attendance. The meetings, confirmed the two presidents, will provide an opportunity to exchange views and determine future steps in the search for a solution.
Abbas stressed during the meeting Egypt's pivotal role in achieving reconciliation for Palestine, said the statement. He stressed the opportunity for Egypt to play a part in establishing internal political unity within Palestine, which must first be achieved if Palestine is to build its own independent state and ensure a better future for the next generations.
Edited translation from Al-Masry Al-Youm