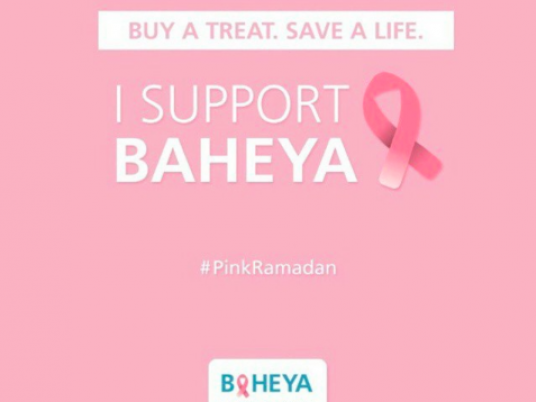 Under the slogan, "Buy a Treat, Save a Life", a Ramadan campaign has been launched by Baheya, Egypt's only charity entirely-dedicated to breast cancer treatment, aiming to raise funds and spread awareness about the disease.
As Ramadan is known for Egyptians' strong appetite and sweet tooth, Baheya seized the opportunity and joined forces with several patisseries to offer their customers a pink ribbon for LE 5 in solidarity with the noble cause.
The pink ribbon is an international symbol of breast cancer awareness.
"Pink Ramadan" campaign is part of the hospital's endeavours, since opening its doors to the underprivileged in March, to relieve the physical as well as financial burden of breast cancer treatment.
"It is a simple approach to reach out to as many people as possible and encourage everyone to join the fight by disseminating knowledge about the disease," said Mohamed Shaalan, a professor of surgical oncology at Cairo University's National Cancer Institute and Baheya's board member.
Every three minutes a new breast cancer is diagnosed across the world. Breast cancer is the most common cancer among Egyptian women, according to Shaalan.
A photo posted on "Pink Ramadan" instagram by Mariam Auf, one of the campaign's supporters.
The hospital covers all the expenses of the long journey to beat breast cancer, including mammography, medical imaging, chemotherapy, medications, and counselling.
Breast cancer treatment cost estimation ranges from LE10,000 to 300,000, depending on the type of therapy, surgery and recurrence.
Plans are underway to set up another healthcare unit in 6th of October city, focused uniquely on performing surgeries. Additionally, the hospital is set to embrace other healthcare services, including psychological and social support.
All the campaign's proceeds will go to those who are battling breast cancer. Abdel Rahim Koueider, Sale Sucre Patisserie, Devour, Carousel Pastries, A La Suzanne, Nuntee's, and The Batter Half & Co. are among the confectionary outlets where pink ribbons are available for sale.
Check the hospital's Facebook page for more information.