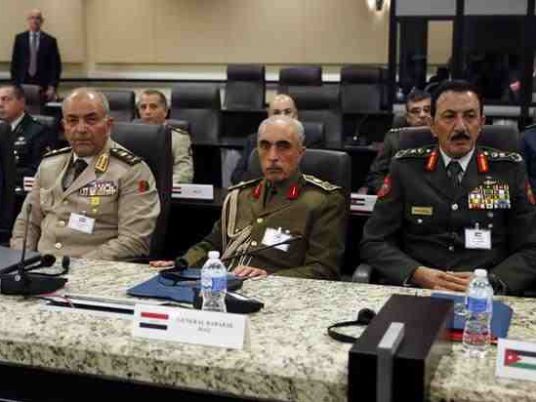 Egypt's Chief of Staff Mahmoud Hegazy travelled to Saudi Arabia on Friday to attend the meeting of chiefs of staff of Arab countries to discuss the proposed joint Arab force.
The meeting comes in light of "activating the Arab League's decision to establish a joint Arab force aimed at maintaining the security and stability of the region," state-run news agency MENA reported.
Last week, Arab world leaders agreed in principle to establish a unified military force at the end of the Arab League summit hosted by Egypt, but Iraq has expressed reservations to the proposed force.
AL Secretary General Nabil al-Araby said the proposed joint force will include the league's member states that are willing to partake, stressing that it is "optional".
Egypt backs the joint force and has been steadfast on calls to establish it, especially since launching airstrikes on militant targets in Libya in February.
Several Arab countries are currently battling a wave of militant insurgency including Syria and Iraq, where large areas have fallen under the control of Islamic State fighters. Libya and Yemen have also fallen into the turmoil gripping the region.