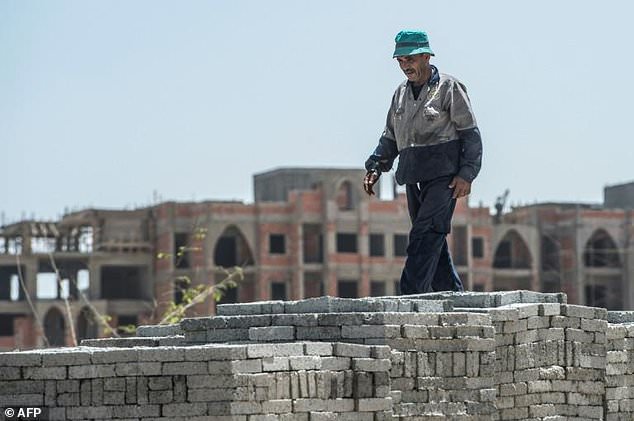 In Egypt's eastern desert, roads are being carved across vast expanses of sand where the government is building a new administrative capital, a long-cherished project that has failed in the past.
The city will be complete with luxury hotels, upscale residential districts, a modern airport and a 345-metre (1,140-foot) tower, touted as Africa's tallest.
The work is being carried out about 45 kilometres (28 miles) east of Cairo, between roads connecting the metropolis to the canal city of Suez and the Red Sea resort town of Ain Sokhna.
Workers are building a district to house a new presidential palace, parliament, 32 ministries and foreign embassies.
"I work more than 12 hours a day on this useless construction site," complained one labourer, a scarf wrapped around his head to protect him from the sun.
"You want to be on TV? No? Then get back to work," yelled his supervisor.
The project, seen as expensive and not a priority for Egyptians, has been hard to sell, especially given past failures.
President Abdel Fattah al-Sisi in 2015 announced the project to build a new capital, expected to cost some $45 billion and to be completed by 2022, according to the authorities.
The cost has angered many in a country with a crisis-hit economy.
The first phase of construction was officially launched in October, with the new capital aiming to expand to 170 square kilometres (65 square miles) and house over six million people.
For the authorities, the project is a necessity due to Cairo's gradual decay and congestion.
With its 18 million inhabitants and constant traffic gridlock, Greater Cairo is expected to see its population bulge to 40 million by 2050, according to official figures.
Hesitation among investors
"We have a dream," said Khaled el-Husseiny, contracted by the authorities to present the project to journalists.
He said Egypt aspires to have a capital in the gleeming image of Abu Dhabi, the oil-rich capital of the United Arab Emirates.
The ministry of defense and the ministry of housing manage the project, including its funding, Husseiny told AFP.
To carry it out, the government is currently focusing on key Egyptian private companies.
Orascom Construction, owned by the billionaire Sawiris family, is responsible for many of the sites.
Real estate tycoon Hisham Talaat Moustafa, who Sisi pardoned in June after he was jailed for the murder of a Lebanese pop diva in Dubai almost a decade ago, is also involved.
Moustafa, who was an associate of ousted president Hosni Mubarak, has bought two square kilometres for himself in the new capital.
But amid hesitation from foreign investors, only a few Gulf companies and a Chinese partner have expressed interest in the project.
"We are very optimistic about the participation of Chinese companies in the new capital," said Han Bing of the commercial affairs section at China's embassy.
The China State Construction Engineering Corporation (CSCEC) in October signed a $3 billion contract to build a large business centre.
"We need the Egyptian partner to promote this area to attract Egyptian and international investment," Han said, stressing the need for political stability and a secure environment for foreign investors.
Abundance of new cities
Among some 30 new cities launched in Egypt since the 1960s, with white and grey walls and brick roofs, inspired by suburbs in the United States and the Gulf, a city called New Cairo stands between Cairo and the new capital's location.
It was supposed to house four million people, but only 1.5 million Cairenes live in the district, which also houses banks and businesses.
"We can compare the new capital to New Cairo," said Ahmed Zaazaa, an urban architect and planner at 10 Tooba, where a group of researchers promote an alternative urban policy.
With its malls that are unreachable without a private car and its lifeless streets, "it is not a success that one could take as a model," said Zaazaa.
Far from meeting the real needs of Cairo residents, the new capital, according to Zaazaa, can largely be seen as political propaganda.
"Since Nasser, under each government there has been the idea of a new city which is supposed to represent hope, future and modernity," he said.
But according to the authorities, the latest project is different.
"It will be a smart city using modern technologies for all services on site," said General Ahmed Zaki Abdin, head of the Administrative Capital for Urban Development which is managing the project.