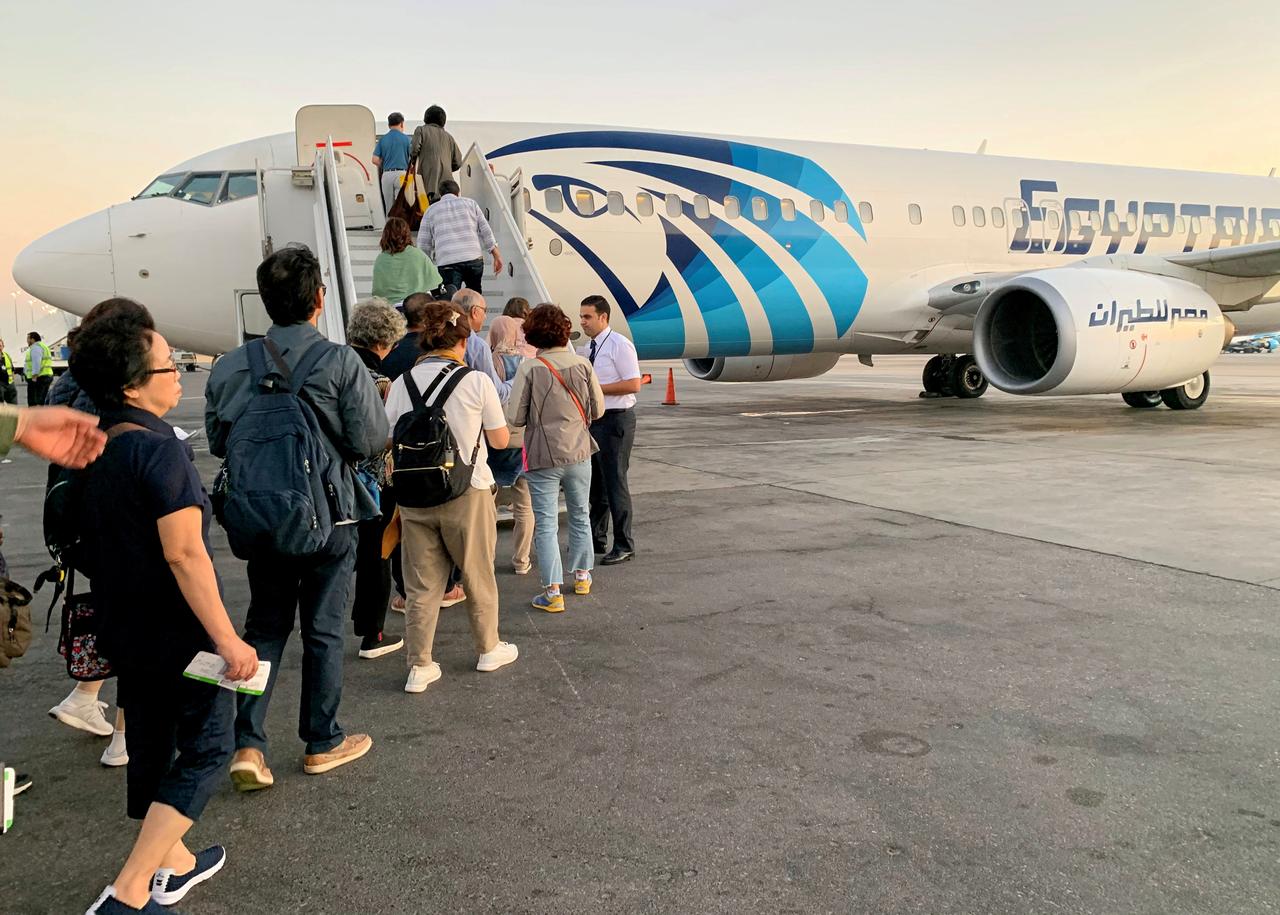 Egyptian Prime Minister Mostafa Madbouly met with Minister of Tourism and Antiquities Minister Khaled al-Anany and Civil Aviation Minister Mohamed Manar Enaba on Tuesday to develop a plan to resume foreign tourism and aviation.
Madbouly instructed the ministers to present their plan to to the Supreme Committee for Managing the Novel Coronavirus Crisis, so that tourism can resume.
During the meeting, Anany reviewed the situation of hotels that have attained health safety certificates allowing them to operate for domestic tourism at reduced capacity.
Anany highlighted the substantial hotel occupancy rates during the Eid al-Fitr holiday in Alexandria, Ain Sukhna, the Red Sea Governorate, Greater Cairo, South Sinai, Matrouh and the North Coast.
He pointed out that several promotional campaigns and short films have been prepared sent to all tourist markets abroad. A promotional film titled "A tourist in Egypt" has been shot, and includes scenes of the airport, the Egyptian Museum, hotels, beaches, the desert and the hospital in Sharm el-Sheikh.
The meeting also reviewed measures taken by other countries to resume foreign tourism, so as to determine which measures will make the most sense for Egypt.
Anany also detailed the procedures to which tourists will be subject prior to departure from their home country, on board their flight, upon arrival in Egypt, and throughout their stay. He also discussed the procedures for operating airports and restaurants, and for organizing visits to archaeological sites.
The Minister of Civil Aviation noted the preparations and procedures that have been implemented in the various airports to resume air travel. All precautionary and preventive measures implemented internationally have been put in place in Egypt, he said, and domestic flights are currently operating with high efficiency.
Egypt suspended tourism in March as part of measures to combat the spread of coronavirus. Tourism is a vital sector in Egypt, accounting for about 12 percent of Egypt's gross domestic product.
The tourism sector is also one of the economic sectors that has been most severely impacted by the coronavirus outbreak.
Egypt on Tuesday confirmed 1152 new coronavirus cases, bringing the country's number of confirmed total cases so far to 27,536. The total number of COVID-19 deaths has now reached 1052 nationwide, after announcing 47 more deaths.
Photo caption:
Edited translation from Al-Masry A-Youm