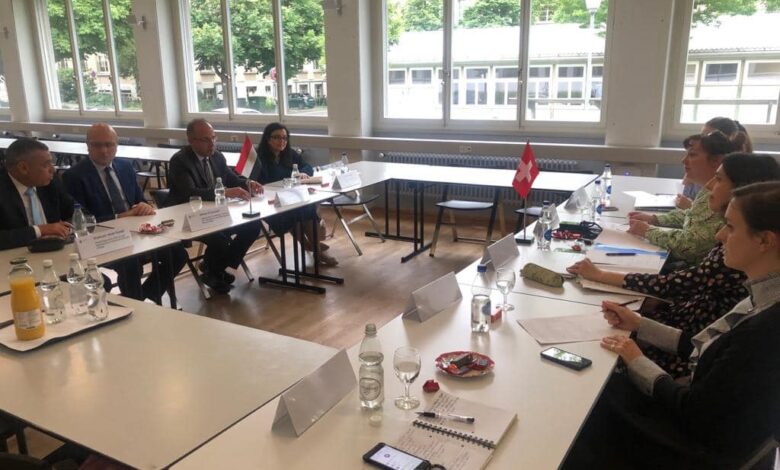 The Egyptian Foreign Ministry announced that it is making arrangements to return several ancient Egyptian artifacts that had previously been received by Egypt's Ambassador to the Swiss Confederation Wael Gad from the Federal Office of Culture in August.
These pieces include a part of a statue of a lady made of alabaster, a stone piece with a carving representing a part of the god Bes, a cover for a canopic jar of stone shaped like a human figure, a stone Sphinx, a stone panel with inscriptions representing some characters and writings, and a cylindrical alabaster vase.
The ministry said in a statement that an Egyptian technical delegation from the Ministry of Tourism and Antiquities arranged to visit Switzerland from May 29 to June 2, which included the General Supervisor of the General Department of Retrieved Antiquities Shaaban Abdel Gawad, and the legal advisor to the Minister of Tourism and Antiquities for the affairs of the Grand Egyptian Museum, Adham al-Ganzouri.
The Foreign Ministry stated that the visit's program included holding a technical meeting with the Director of the Department concerned with the international transfer of cultural property at the Federal Office of Culture.
It featured the participation of representatives from various federal agencies such as the Swiss Ministry of Foreign Affairs, the Federal Office of Justice and the Office of the Public Prosecutor in the canton of Zurich.
The meeting also discussed the recovery of smuggled Egyptian antiquities and ways to enhance cooperation between the two sides in the field of illegal antiquities trade, based on an agreement signed between the two countries in 2010 regarding the illegal import and transfer of antiquities and their return to their original homeland.
The Foreign Ministry confirmed that it is continuing its efforts in recovering smuggled Egyptian antiquities and returning them, alongside efforts made by the Foreign Ministry through its foreign missions in direct coordination with the Ministry of Tourism and Antiquities.