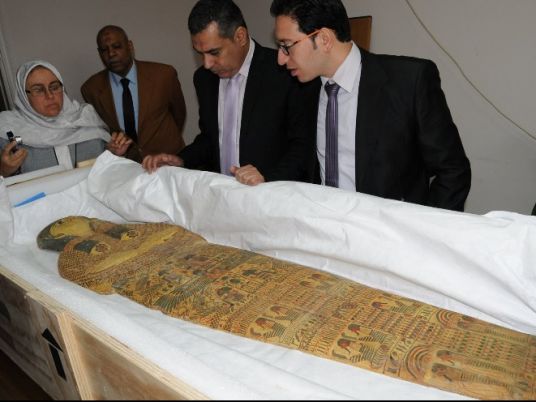 Egypt received from the US on Monday four artifacts that belong to the Late Pharaonic Period and were illegally smuggled abroad.
Shaaban Abdel Gawad, Supervisor General of the Antiquities Repatriation Department, said the department succeeded in December 2016 in proving its legal ownership of the artifacts.
The recovered pieces included a mummy shroud of linen topped with a layer of colored plaster, a wooden coffin lid with ancient Egyptian religious symbols, a mummy's hand, and a wooden sarcophagus topped with a necklace adorned with geometric and floral graphics, according to Abdel Gawad.
The US customs administration seized the pieces which were handed over to the Egyptian Embassy in Washington.
Abdel Gawad added that in early December Egypt signed a Memorandum of Understanding (MoU) with the US that imposes restrictions on the smuggling of Egyptian antiquities to the US.
The agreement is considered the first of its kind with a Middle Eastern or African country.