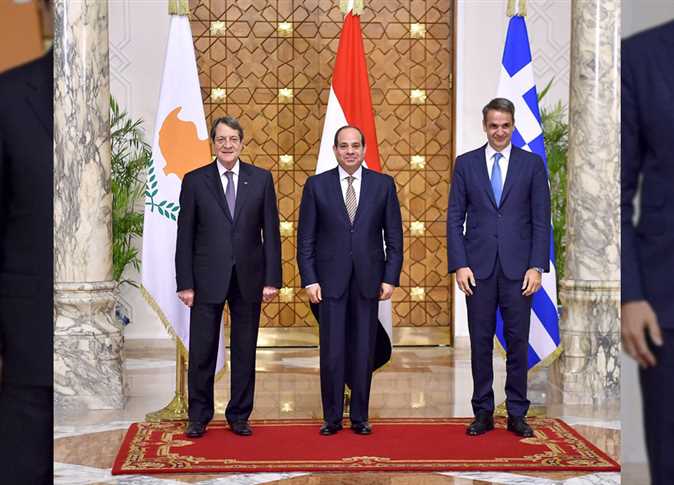 The Egyptian Ministry of Foreign Affairs on Thursday criticized a statement issued by the Turkish Foreign Ministry regarding the signing of an agreement to define an exclusive economic zone between Egypt and Greece.
The Egyptian Foreign Ministry tweeted its surprise that such statements and allegations were issued by a party that did not originally know the agreement and its details.
The Turkish Ministry of Foreign Affairs claimed that the agreement to demarcate the maritime borders between Egypt and Greece covers a region that is part of the Turkish continental shelf.
It added that Turkey considers this agreement a violation of Libyan maritime rights as well.

The Turkish Foreign Ministry said in a statement that the agreement is considered "null for Ankara," and that it has sent a communication in this regard to the United Nations.
This came after Foreign Minister Sameh Shoukry announced the signing of an agreement to demarcate maritime borders with his Greek counterpart Nikos Dendias.
The Foreign Minister received his Greek counterpart this morning in Cairo to discuss ways to strengthen bilateral relations and coordination on issues of common concern, in preparation for an agreement to define the maritime borders between the two countries.
On Friday, Turkish President Recep Tayyip Erdogan described the agreement as "worthless," and announced his country's resumption of gas exploration operations in the Mediterranean. His comments come despite his country having signed a similar agreement with the Libyan government of reconciliation.
He added, "We do not need to negotiate with those who do not have any rights in the maritime jurisdiction areas," according to a report by Anadolu Agency and the Turkish Radio and Television Corporation.
Erdogan affirmed that his country will continue to adhere to its agreement with Libya with great firmness, and announced that Turkey has resumed exploration operations in the eastern Mediterranean, adding that Greece has not abided by its pledges to Turkey to stop drilling operations in the eastern Mediterranean.
On Thursday, Turkish Foreign Minister Mevlüt Çavuşolu said that the agreement between Egypt and Greece was "null" and violated the continental shelf of Turkey and Libya and their rights, adding that Ankara will continue to preserve the legitimate rights of Turkey and Turkish Northern Cyprus.
Çavuşolu said that Greece and the Greek Cypriot administration were trying to ignore Turkish rights in the region by signing agreements with countries such as Egypt and Israel, according to the official Turkish Radio and Television Corporation.
At the same time, the Ministry of Foreign Affairs of the Libyan Government of National Accord said, in a statement commenting on the Egypt-Greece agreement, that no party will be allowed to violate Libya's maritime rights. It added that the Memorandum of Understanding it signed with Turkey regarding the demarcation of marine areas does not contradict international law, or international agreements and covenants.