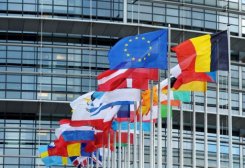 A European Union official revealed Thursday that Egypt had officially requested EU monitors to supervise upcoming parliamentary elections slated to begin 22 April.
During a Cairo press conference, Bernardino Leon, the EU Special Representative for the Southern Mediterranean Region, said a technical team from the EU is set to arrive in Cairo Saturday to assess the possibility of sending EU monitors during the House of Representative polls.
However, he added that it was unlikely EU observers would be posted in polling stations.
The government recently announced it would hold elections for its lower house of parliament in four separate votes throughout April and May amid boycotts declared by major opposition groups, such as the National Salvation Front, which claim the elections law governing the polls does not guarantee their integrity.
Leon added that the elections will be closely watched and scrutinized by the international community.
Edited translation from MENA