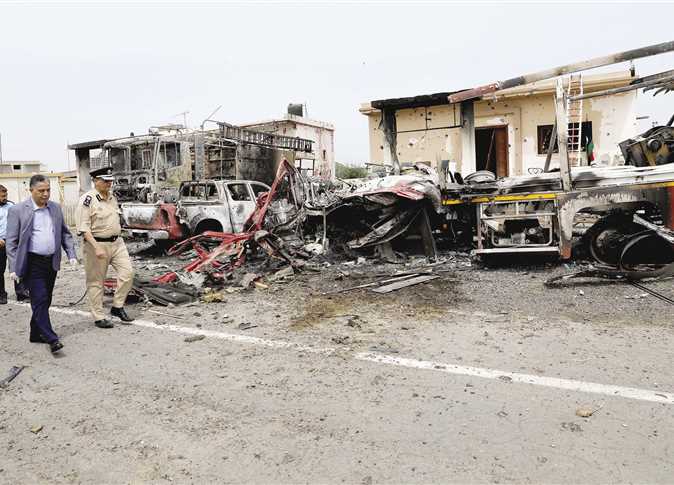 Assistant Secretary General of the Arab League Hossam Zaky said that the General Secretariat has received a request from the Egyptian delegation to hold an emergency virtual meeting of the Arab League Council to discuss developments in the ongoing Libyan conflict.
Zaky added that coordination is currently underway with the president of the current Arab League session to determine the date of the meeting, which is expected to be set for next week.
He pointed out that Egypt's request has obtained the required number of votes to hold the meeting.
For more than five years Libya has had rival parliaments and governments, namely the Libyan National Army (LNA) and the rival Government of National Accord (GNA), in the east and the west, with streets often controlled by armed militias and sporadic fighting, Reuters reported.
The UN has recently called on the government of reconciliation in Tripoli to conduct a quick and impartial investigation into war crimes committed by Libyan militias and Syrian mercenaries loyal to Turkey in the western Libyan cities of Asaba and Tarhuna.
For his part, President Abdel Fattah al-Sisi on Saturday June 6 launched a new plan to resolve the Libyan crisis, dubbed the "Cairo Declaration."
The Cairo Declaration is a message to the world, Sisi said, and expresses a firm desire to enforce the Libyan people's goals of stability and development, to preserve the country's sovereignty and to put its interests first and foremost.
The announcement came during a press conference at the Ettehadiya Presidential Palace, in the presence of Libyan House of Representatives speaker Aguila Saleh and the Commander-in-Chief of the Libyan National Army (LNA) Khalifa Haftar.
Sisi's plan will respect all international efforts to resolve the Libyan crisis thus far and includes a 48-hour ceasefire throughout Libyan territories, dismantling militias and handing their weapons over to the LNA, expelling foreign mercenaries out of the country, and resuming the 5+5 Libyan Joint Military Commission under the auspices of the UN.
The declaration also demands fair representation from all three of Libya's regions within its administration of governance for the first time in the country's history, holding fair elections without the interference of any militia, and launching a constitutional declaration regulating the country's political process.
Edited translation from Al-Masry Al-Youm