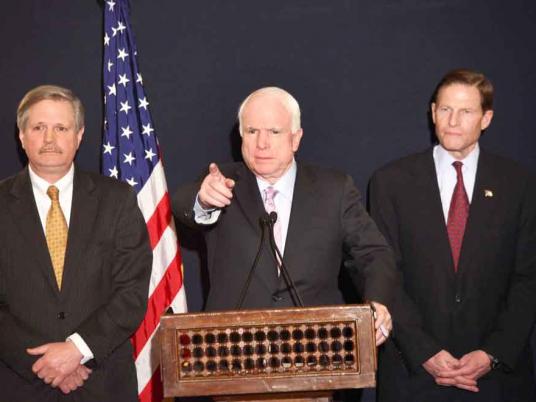 The Egyptian Foreign Affairs Ministry renounced on Wednesday statements released by US former presidential candidate and senator John McCain who condemned recent political developments in Egypt that include the arrest of presidential candidate Sami Anan.
Through a statement released by the Egyptian Foreign Affairs Ministry, Egypt described McCain's statements on the political atmosphere in Egypt as "false allegations that have been refuted."
"Egypt expresses its complete rejection, in form and subject, of this statement that contains false allegations about Egypt and its political course, as the 25 Jan revolution is the property of the Egyptian people and it does not need anyone to remind them of it — the 25 Jan revolution represents historic value approved by Egypt's constitution," the Foreign Affairs Ministry's statement read.
The statement added that what McCain said is nothing more than a further attempt to spoil the Egyptian celebrations of the January 25 revolution by repeating flimsy claims refuted by evidence.
The statement pointed out that the McCain statement is devoid of any reference to the size and nature of the challenges facing Egyptian society now such as terrorism, noting that this represents a lack of appreciation for the Egyptian people.
On Wednesday, Senator John McCain condemned what he described as the "repression" by Egyptian President Abdel Fattah al-Sisi against political opponents such as the arrest of candidates, expressing doubt about the possibility of holding "free and fair" elections.
In a statement marking the 7th anniversary of the 2011 January 25 revolution in Egypt, McCain called for respect of the "spirit of revolution" and the democratic aspirations of the Egyptians.
"Seven years ago, the Egyptians inspired the world with their peaceful revolution that demanded freedom and social justice, in a move that encouraged those who seek democracy and freedom," he said.
McCain added that over the past seven years, Egypt witnessed a serious fall as Sisi has launched a crackdown on political activism and human rights that has led to the imprisonment of tens of thousands of dissidents, including 19 US citizens and about 3,500 young people.