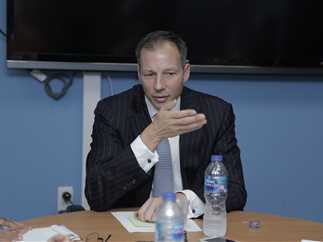 Egypt's reforms and discoveries encourage private US energy companies to invest there, Assistant Secretary for the Bureau of Energy Resources at the US Department of State Francis R. Fannon said.
He added that around three companies have never abandoned its investment in Egypt for many years.
Fannon said that gas discoveries in the eastern Mediterranean have attracted wide international interest, especially in light of the Eastern Mediterranean countries led by Egypt planning to establish an energy export center, which will strongly benefit European partners, adding that he expects wider energy discoveries in the region.
Fannon, who is visiting Egypt as a final destination in a regional tour that includes Israel, Cyprus and Egypt, told reporters on Tuesday that the US maintains an impartial stance from conflicting parties in the energy field in the Eastern Mediterranean region.
Cooperation creates opportunities for all conflicting parties to be winners, which is what Washington supports, Fannon said.
According to Fannon, Egypt is at the start of it's journey as it targets renewable energy to cover 20 percent of its energy production by 2022, aiming to rise to 27 percent by 2025.
The International Renewable Energy Agency believes that Egypt can get 50 percent of its energy needs through renewable energy, which provides a large opportunity for US companies to invest in this field in Egypt, Fannon said.
The Egyptian government has a clear program of action to attract investors, which contributed to encouraging US companies to invest in Egypt again, Fannon explained, praising Egypt's actions such as the cancellation of energy subsidies, paying debts owed to foreign energy companies and liberalizing the regulations related to the work of gas companies in Egypt.
He pointed out that despite the difficulty of these decisions, they were vital to attract more investment.
Edited translation from Al-Masry Al-Youm