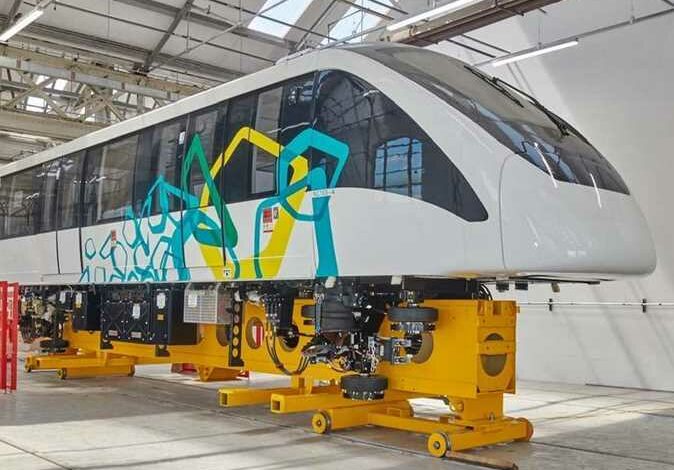 Egypt receives the first vehicle of the monorail train for the Nasr City – New Administrative Capital monorail line at the port of Alexandria, Lieutenant General Kamel al-Wazir, Minister of Transport, announced on Tuesday. 
Egypt has already received Thursday the signaling systems for the project and will be installed in July.
The US$4.5 billion monorail project is the first of its kind in Egypt and includes two lines: a 43 km-long rail set to extend from 6th of October City to Giza, and another rail connecting Cairo's New Administrative Capital to Nasr City at a length of 54 km.
The monorail will serve all commuters from Cairo and Giza to New Cairo, the New Administrative Capital and Nasr City.
The Egyptian cabinet's Media Center said that the monorail will be connected with the third line of the subway at the Stadium Station in Nasr City, and with the electric train at the City of Arts Station in the New Administrative Capital, with a length of 56.5 km, and a total of 22 stations.
The monorail is considered one of the most important means of modern transportation, with many features:

-The monorail is an urban transport method that can work automatically without a driver.
-Its external structure is made of aluminum, so that the weight of the train decreases and its speed increases.
-It has screen doors were installed on the sidewalks in front of the train doors to maintain passenger safety.
-The trains have a high-capacity air-conditioning system and are provided with a safe passage that allows passengers to move between vehicles for more comfort.
-It has TV cameras installed in the front of the central monitoring of the railway, and LCD screens to be used to provide passengers with information. The LCD screens can also be used in commercial ads.
-A screen is installed at the top of the side doors to inform passengers of the name of the final station before they board the train.
-Places have been allocated for people with special needs to help in movement.
-The vehicles are provided with maps at the top of the passenger doors from the inside showing the path through illuminated lamps to help the hearing impaired.