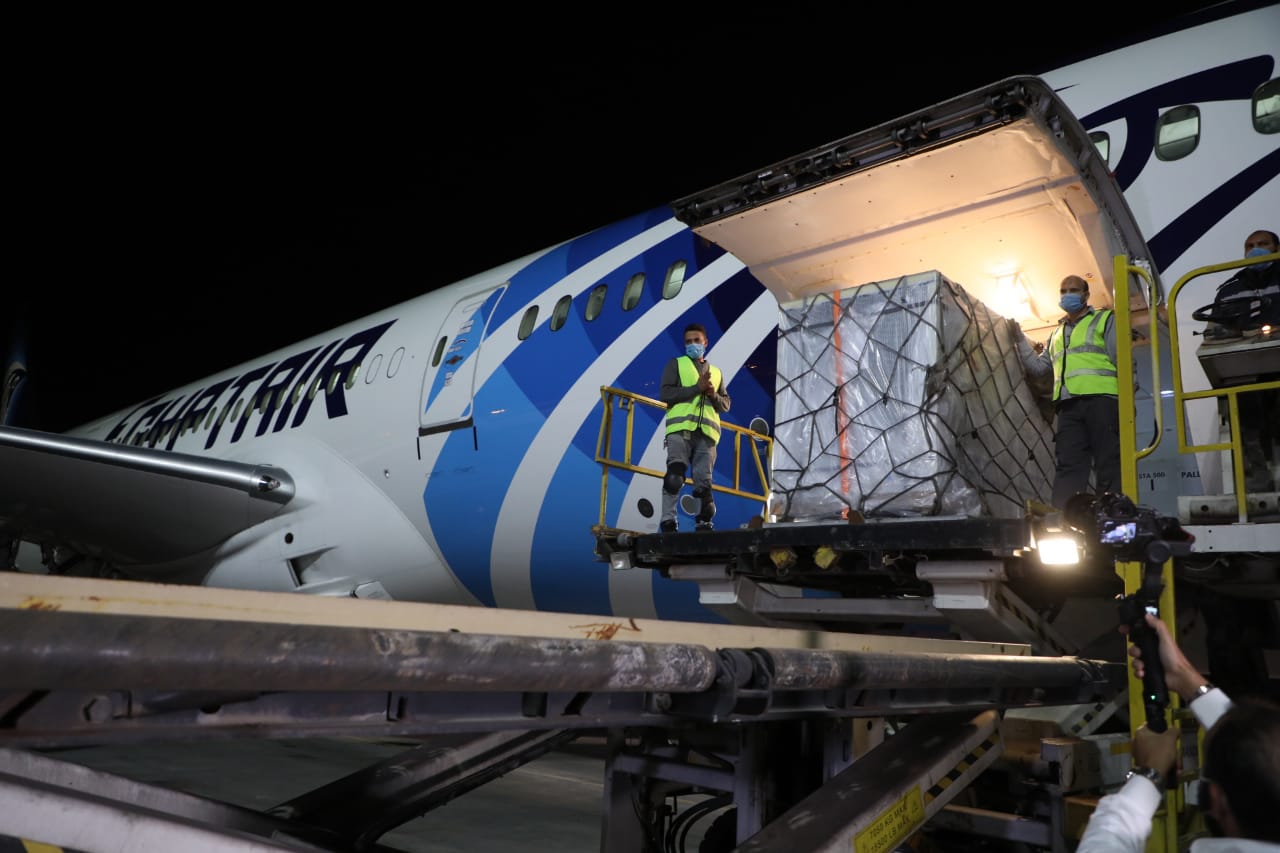 Egypt on Saturday received a new gift shipment of 300,000 doses of the the Chinese COVID-19 vaccine Sinopharm at Cairo Airport, sent from China itself.
Egypt previously received 300,000 doses of coronavirus vaccines produced by Sinopharm in February, a gift from the People's Republic of China to Egypt, as part of the continuous cooperation between both nations in combating the coronavirus.
It also participated in the clinical trials of the coronavirus Sinopharm vaccine through 3,000 volunteers, including Minister of Health and Population Hala Zayed.
The country first launched its vaccination campaign on January 24.
The Health Ministry is currently working to vaccinate medical staff, people over the age of 65, and those with chronic illnesses. The ministry has opened registration for the jab online. The vaccine will cost no more than LE200 per person, the Health Minister announced, with low-income folks eligible to get their doses for free.
Egypt is currently using China's Sinopharm vaccine for its campaign, and will soon receive a shipment of six million doses of the UK's AstraOxford vaccine.
The ministry also plans to employ Russia's Sputnik-V vaccine once it makes its way to Cairo.
AstraOxford and Sputnik-V received emergency approval from the Egyptian Drug Authority on February 24.
So far, 100 million doses of the vaccine have been secured by the ministry, which is enough to vaccinate roughly half of Egypt's population.
Egypt's Health Ministry on Friday confirmed 645 new coronavirus cases.
The ministry also reported 40 deaths and 433 recovered cases.
Egypt has now reported 194,127 confirmed cases, 149,256 recovered, and 11,512 deaths.
A third wave of the virus is coming, warned President Sisi's health adviser Mohamed Tag al-Din, forecasting that celebrations during the holy month of Ramadan will likely lead to an increase in cases.