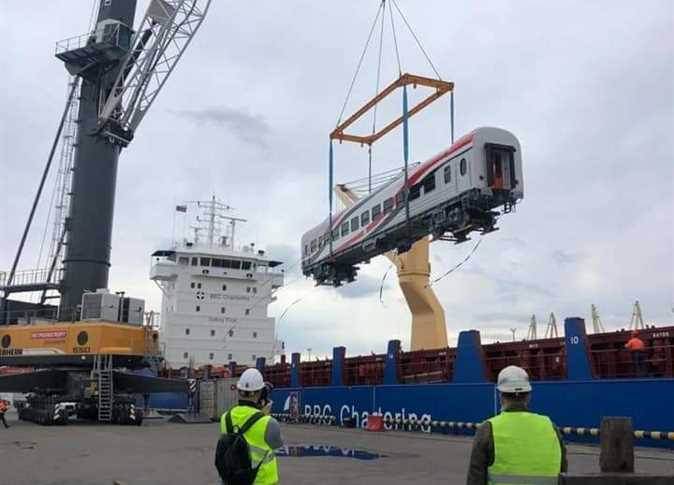 The Alexandria port received 22 passenger railway coaches, bringing the total to 68 coaches received by the Transport Ministry under a deal to manufacture and supply 1,300 coaches signed between the Egyptian National Railways (ENR) and the Russian company Transmashholding (the representative of the Russian-Hungarian alliance) at a cost of 1.16 billion euros.
Minister of Transport Kamel al-Wazir said that with this latest batch of vehicles, 35 coaches have now arrived in August, fulfilling the average monthly supply agreed upon with the manufacturer.
This rate enables the ENR to operate three trains consisting of all new locomotives and coaches, entering service on the authority's lines on a monthly basis.
He added that this deal will help raise daily operation efficiency and the regularity of operating schedules, especially as it coincides with ongoing projects to modernize the ENR's infrastructure, including signaling systems, developing crossings, renewing tracks, and renovating stations and workshops.
The projects implemented by the ministry has contributed to increasing the safety of train operations and improved their services, Wazir said, which citizens can readily notice already.
Passenger coaches manufactured for the ENR by Russia underwent tests in Hungary by the Russian Tver Manufacturing Institute, in collaboration with Hungary's KTI Research Institute in February.
Egypt signed a contract back in 2018 with the Russian-Hungarian Transmashholding Company to supply 1,300 train coaches to the ENR.
The largest deal in the ENR's history, it represents a qualitative shift in the services provided to passengers in Egypt.
The deal includes 500 third-class units with forced ventilation, 500 third-class units with air-conditioning, 180 second-class units with air-conditioning, 30 second-class units with air-conditioning and buffets, and 90 first-class units with air-conditioning.
Egypt's government aims to overhaul railway facilities though the periodic updating of infrastructure and coaches, focusing on safety and aiming to utilize unconventional methods to provide further resources to implement developmental plans.
Edited translation from Al-Masry Al-Youm