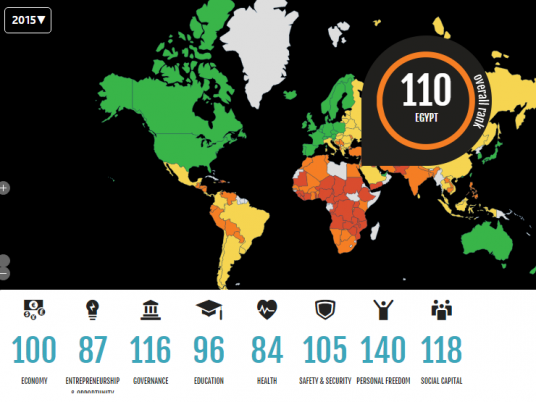 Egypt ranked 12th among Arab countries and 117th internationally out of a total of 149 countries listed in the Prosperity Index for 2016, issued by the Legatum British Institute, declining 6 ranks compared to 2015.
The UAE ranked first among Arab countries and 41 worldwide, followed by Qatar, Bahrain, Oman, Kuwait, and Saudi Arabia.
Legatum Institute, based in London, issued the list of the most prosperous countries in 2016, according to its prosperity index which started observing the levels of prosperity in 149 countries 8 years ago.
Countries which beat Egypt in the ranks — listed from 107 to 116 — were Ukraine, Zambia, Tanzania, Malawi, Algeria, Burkina Faso, Djibouti, Bangladesh, Lesotho, and Uganda.
The index measures the prosperity of 149 countries through nine key indicators, including its overall economy, growth foundations, economic opportunities, the efficiency of the financial sector, the business environment, obstacles that hinder innovation, labor market flexibility, effective governance, democracy and political participation, the rule of law, the quality of education, health and security, personal freedom, and the preservation of the environment.
Egypt was ranked 105 out of 149 in the economic quality factor, and 101 in the work environment, 117 in the governance index, 92 in education, 88 in health, 93 in safety and security, and 146 in personal freedom, surpassing only Yemen, Sudan and Afghanistan.
Edited translation from Al-Masry Al-Youm