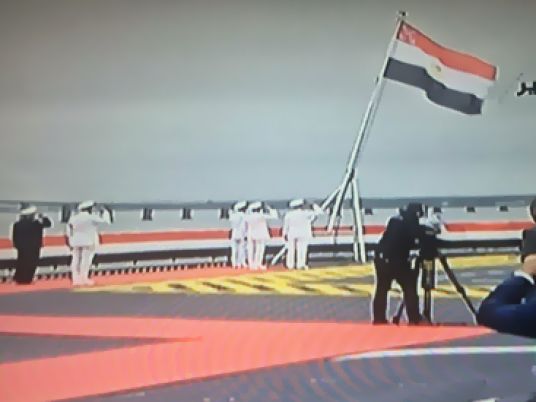 Egypt officially received the first of two French Mistral-class helicopter carriers at a handing-over ceremony at the French port of Toulouse on Thursday, marking a key milestone in the Egyptian government's efforts to boost the nation's military capabilities.
Egyptian naval officers raised the Egyptian flag on the deck of the ship, marking the entry of the vessel into service ahead of its journey to Egypt. According to French news website 20 Minutes, the handover ceremony was attended by naval officers and officials from both sides, headed by French Defense Minister Jean-Yves Le Drian and his Egyptian counterpart Sedqi Sobhi.
The vessel, which has been named after late Egyptian President Gamal Abdel Nasser, is the first of its type to be owned by any African or Middle Eastern nation. Properly known as a Mistral-class Landing Helicopter Dock (LHD), the ship can carry a wide range of military personnel and hardware for deployment overseas.
In addition to troops, the ship can hold up to 24 aircraft, 40 tanks, 50 armored vehicles and three radar units. It has a missile system for air defense and room on deck for six helicopters of various kinds. It is also equipped with a 20-room hospital unit, complete with surgical facilities.
Earlier this month, a crew of 170 Egyptian naval personnel underwent training on all aspects of the vessel's operation.
A second Mistral vessel will be delievered to Egypt in September, and will be named after deceased President Anwar al-Sadat.
The deal for the two French warships is considered of key strategic importance by the Egyptian military, massively increasing it's capability to deploy force along its coastline and overseas. It is part of a wider agreement by which Egypt is buying various items of French military hardware, including ships and aircraft.
In early 2015, Egypt signed a deal for the supply of 24 Rafale aircraft, built by French company Dassault Aviation. The first three jets were delivered to Egypt last summer, and another three arrived early this year. The same deal saw Egypt purchase one FREMM-class multi-purpose frigate, as well as missiles.
In March of this year, France and Egypt held a joint military exercise dubbed "Ramses 2016", involving the naval and air forces of the two nations.
The two Mistral helicopter carriers were originally indended for Russia, according to a deal signed between the two countries in 2011. However, France broke the contract after Western nations imposed sanctions on Russia as a result of the February 2014 coup in Ukraine, to which Russia objected.
Egypt then signed a contract with France for the two ships, having first gained Russia's approval.

The new Mistral-class warship, showing the landing spots for six helicopters.


The new Mistral-class Mistral-class Landing Helicopter Dock (LHD) in a French port.