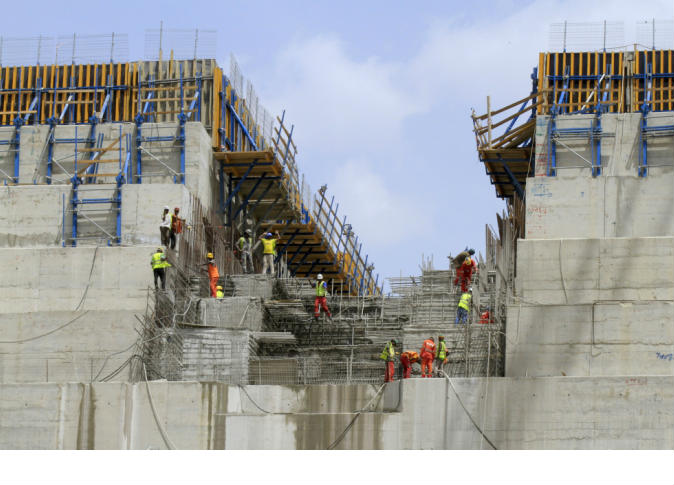 Egyptian and American officials met on Monday, at the headquarters of the United States Department of the Treasury, to discuss Egypt's vision regarding the filling and operation of the Grand Ethiopian Renaissance Dam (GERD).
Following the Egyptian-US talks session an expanded meeting was held for the Ministers of Foreign Affairs and Irrigation from Egypt, Sudan, Ethiopia and the accompanying delegations, which discussed the foundations and technical regulations necessary to reach a fair and balanced agreement on filling and operating the dam.
On the Egyptian side, Foreign Minister Sameh Shoukry and Minister of Water Resources and Irrigation Mohamed Abdel-Aty participated in the Washington meetings.
The meeting was headed by US Treasury Secretary Steven Mnuchin, in the presence of World Bank President David Malpass, to discuss developments in the ongoing negotiations on the GERD dilemma.
Egyptian Foreign Ministry spokesperson Ahmed Hafez said that technical negotiations resumed on Tuesday at the ministerial level to review and discuss the results of the technical consultations.
The Ethiopian ambassador to Washington, Fitsum Arega, said the talks were "fruitful and will continue."
Egypt previously said on January 10 that negotiations on the GERD failed to lead to tangible progress because of Ethiopia's intransigence, imposing its position with little room for negotiation.
Egypt, Ethiopia, and Sudan held a ministerial meeting on the GERD during January 8-9 in the Ethiopian capital of Addis Ababa, sponsored by the US and the World Bank, as part of talks that began on November in Washington to reach a final agreement in January regarding the rules for filling and operating the dam.
Egypt had said its participation in the Washington meetings on January 13 and 14 comes out of its commitment to work honestly in reaching a fair and balanced agreement to preserve the interests of the Egyptian people.
Edited translation from Al-Masry Al-Youm