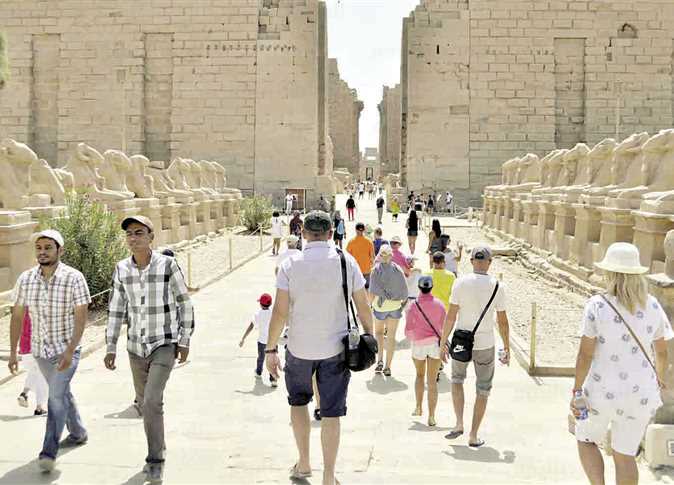 The Tourism and Antiquities Ministry and Luxor Governorate are preparing opening activities for the upcoming Avenue of Sphinxes event in the coming weeks.
Colorful sailboats roamed and raced across the Nile River to impress Egyptian viewers and tourists on the Nile Corniche.
The celebrations came as governmental officials represented by the Minister of Local Development Mahmoud Shaarawy and Minister of Tourism and Antiquities Khaled al-Anani visited Luxor to follow up on the projects to revive the Avenue of Sphinxes.
Excavation work continues in the Avenue of Sphinxes in Luxor Governorate, with 98 percent completed in preparation for the grand celebration expected at the end of this month.
The two ministers, accompanied by Governor of Luxor Mostafa Alham began their inspection tour by following up on development work taking place in the city from the vicinity of the Airport Road, the areas around the temples and the Avenue of Sphinxes.
They listened to an explanation from the officials of the Construction Authority about everything completed during the last period of the murals facing the gates along the Corniche.
The officials also inspected the development done on the existing fountain and the construction of squares in the path of the Avenue.
Anany specified adhering to the avenue's visual identity in all projects and ongoing work there, especially while painting houses, facades and squares.
A plan is being implemented to visually revitalize the avenue, he stated, under an artistic vision that aims to give a unified identity to all of Luxor as a city of tourism.
This includes implementing lighting on both sides of the road, facilitating visits at night.
In January the Tourism and Antiquities Ministry started a project to restore 29 sphinxes at Luxor's Karnak Temple.
The project restores and protects the statues, saving them from destruction.