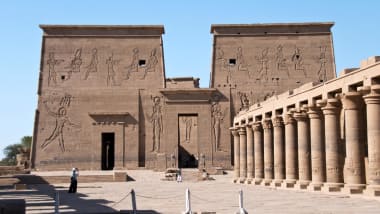 Aswan Governor Ahmed Ibrahim unveiled a governmental plan to turn the Philae Temple region into an open tourist attraction zone, which would promote several kinds of tourism.
The governor said that this plan will be carried out in a way that doesn't impact the environment, especially at the site located between the entrance and the exit of the temples where the land will be flattened to the same height of the green spaces.
This renovation plan is focused on making use of the mountainous structure of the Philae Temples area in addition to establishing a hotel inspired by Nubian architecture, he said. The plan will also provide the area with dozens of restaurants, coffee shops and bazaars, alongside bus parking to enable tourists complete their tour in the temples, using electric vehicles that will transport them to the Nile's borders.
According to Ibrahim, a museum will also be established to display the history of the Philae Temple.
He added that the governmental plan will also intensify cleaning work in the main as well as internal streets. He stressed on more traffic control as well as imposing restrictions on tuk tuk drivers, who are banned from accessing the main streets, and urged to  ensure that drivers in Aswan are following the new traffic rules.