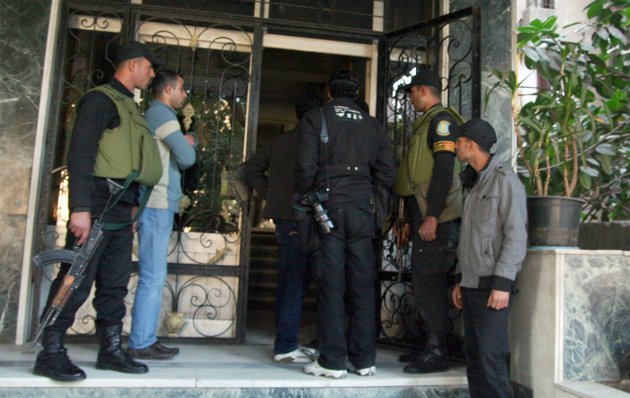 A Egyptian military team plans to visit the United States next week as Cairo's crackdown on pro-democracy organizations has called into question the future of US aid to Egypt, American officials said on Friday.
The Egyptian delegation hopes to meet with officials at the State Department and the Pentagon. It will also hold talks on Capitol Hill, where lawmakers will soon consider a new request for aid to Egypt's military, which now runs about US$1.3 billion per year, one official said, speaking on condition of anonymity.
The Egyptian visit comes after Egypt's military-led authorities pounced on non-governmental organizations, including several funded by the US government, and slapped travel bans on six American staffers including a son of US Transportation Secretary Ray LaHood, a former congressman.
Political analysts say the crackdown, along with questions over Egypt's Emergency Law and security forces' treatment of women protesters, has clouded the outlook for Egypt's fledgling democracy following last year's overthrow of Hosni Mubarak.
State Department spokeswoman Victoria Nuland said American officials were pressing Egyptian authorities the crackdown, which she described as "bizarre." The Americans have demanded that Egypt lift travel restrictions placed on a number of foreign NGO staffers.
"We do not have progress since yesterday, I am sorry to report," Nuland said.
The six US citizens work with the National Democratic Institute and International Republican Institute. Both receive US public funding and are loosely affiliated with the two major political parties in Washington.
"The assertions of the Egyptian government in these cases are that they are subject to a judicial process which is not complete," Nuland said. "Our message back is, 'Complete these formalities and let our people travel as soon as possible.'"
High tension
Officials said a detailed Washington schedule for the Egyptian visit was still being worked out, adding that it was a regular staff delegation that was coming at a moment of high tension in the US-Egypt relationship.
Other political sources said the Egyptians were expected to discuss the NGO issue on Capitol Hill, where a number of senators have warned the Egyptians that US aid was at stake if action against the NGOs continues.
"Continued restriction of their activities and harassment of international and Egyptian staff will be looked at with great concern, particularly in light of Egypt's considerable US assistance," 11 senators said in a letter to Egyptian Field MarshallHussein Tantawi dated 18 January.
President Barack Obama spoke with Tantawi on 20 January and stressed the importance of the NGOs, as well as Egypt's deteriorating economic situation and its request for $3.2 billion in support from the International Monetary Fund.
The Obama administration is finalizing its budget for the 2013 fiscal year, which will be presented on 13 Febuary and is expected to include continued assistance for Egypt's military.
Lawmakers imposed conditions on the US assistance given in 2012, requiring Secretary of State Hillary Clinton to certify that the Egyptian government is supporting the transition to a civilian government. That includes holding free and fair elections and implementing policies to protect freedom of expression, association, and religion, and due process of law.
Clinton can waive this if it is in US national security interests, but must notify Congress that she has done so.
"Those are decisions that are going to have to be made later on in the winter and spring," Nuland said. "These are points that we're obviously making clear to the Egyptians."