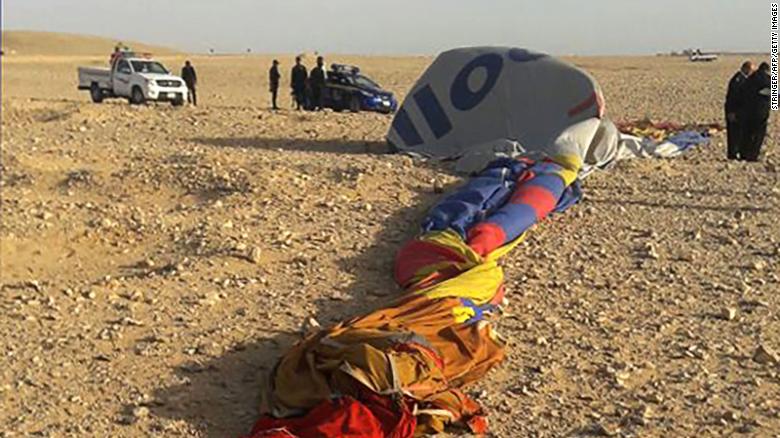 Luxor's prosecutor ordered Saturday the detention of the pilot and three other officials from the company that owned the hot balloon that crashed on Friday, an incident which killed a South African tourist and injured another 15 passengers.
Minister of Civil Aviation Sherif Fathy also announced the formation of an investigative committee to determine the reason for the balloon crash.
In a phone interview with Kol Youm (Everyday) program on ONE Channel on Saturday, the minister said, "something must have gone wrong, and the investigative committee will not take long to find it, and as soon as the reasons for the crash are determined
we will be announcing them with full transparency."
Sherif Fathy responded to criticisms that the balloon should not have been allowed to fly due to the bad weather by saying "preliminary investigations of the accident ensured that this balloon was authorized to fly at that time, according to international standards and procedures," stressing that 22 balloons came back safely.
He also stressed that the weather could have changed while the balloon was midair.
On Friday, Egypt witnessed dusty winds that lead to some roads being closed.
A security source announced that the balloon crashed due to strong winds.
The Ministry of Aviation determined that it was a freak accident, declaring that other balloons that flew on the same day carrying over 400 passengers landed safely.
The head of the Egyptian Civil Aviation Authority Hany El-Adawy has said that balloon
flights will not be suspended, Ahram Online reported.
Hot air balloons are popular in Luxor as they allow tourists an aerial view of the city's
most famous landmarks such as Karnak and the Valley of the Kings.
However, safety concerns have been raised more than once over the operation of the balloons. The deadliest air balloon crash took place in Luxor in 2013 killing 19 out of 21 passengers.
The 2013 Luxor crash was considered the deadliest aerostat disaster in history since the Hindenburg disaster in 1937, which killed 36 people