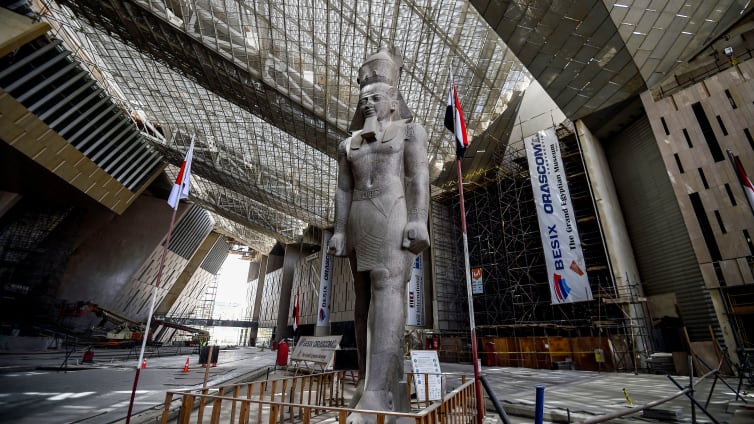 The price of tickets to the main exhibition halls of the much-anticipated Grand Egyptian Museum has been set at LE 30 for Egyptians, while tickets for the King Tutankhamun exhibition halls — set to display a huge collection of the ancient Pharaoh's belongings —  have been set at LE 50, Egypt's Cabinet announced Friday.
The Egyptian Cabinet's Media Center and the Ministry of Tourism and Antiquities denied setting the price of the GEM's entrance ticket at LE 500 for Egyptians, Al-Borsa news reported.
The price of a package ticket, which will cover each of the main exhibition halls and Tutankhamun halls, was set at LE 60 for Egyptians and LE 30 for Egyptian and Arab students.
Officials at the Grand Egyptian Museum are currently choosing between three companies to organize the museum's opening ceremony, which Minister of Tourism and Antiquities Khaled al-Anani has said will be the biggest in Egypt's history.
Major General Atef Moftah, General Supervisor of the Grand Egyptian Museum project and the surrounding area, said that museum had narrowed 24 offers down to five so far, two of which have been ruled out.
The company selected for the job of organizing the ceremony, set to go for ten consecutive days, will be announced in March, he added, pointing out that the opening ceremony was scheduled for the end of this year.
Moftah said that the three companies include alliances of American, Spanish, French and Italian nationalities.
Total investment in the Grand Egyptian Museum project stands at about one billion dollars, according to Al-Borsa.
During an earlier meeting with Parliament's Committee on Tourism and Aviation, headed by MP Amr Sedky, Anani said that leaders of various countries around the globe were set to attend the GEM's grand opening.
Constructed nearby the Giza Pyramids on approximately 500,000 square meters, the new Grand Egyptian Museum will house the world's largest antiquities collection belonging to a single culture's heritage.
The GEM is set to showcase 5,000 relics from Tutankhamun's collection as well — including 2,000 artifacts displayed for the first time.
In related news, the well-known Egyptologist Zahi Hawass has announced that his opera, which is based on the life of King Tutankhamun, will be performed at the Cairo Opera House this coming September, with a performance also set for the grand opening of the GEM.
The new mega museum will also feature several entertainment hubs, including restaurants and theaters.