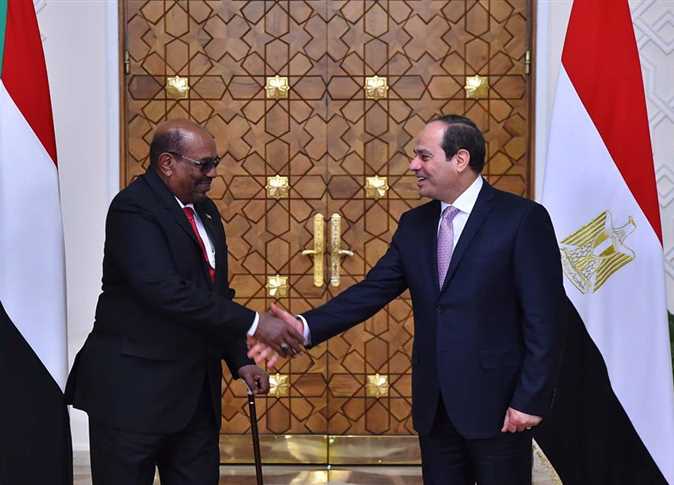 Egypt has the firm principle of not interfering in the affairs of others or conspiring against them, President Abdel Fattah al-Sisi said during a meeting with Sudanese intellectuals on Friday.
He added that Sudan's national security is an integral part of Egypt's national security and that the two countries have an opportunity to achieve much for their peoples if they have a good will.
Political events that occurred over the past few years in Egypt confirmed that conflict between countries does not occur directly, but rather through indirect dismantling of countries from within, he added, stressing that Egypt rejects this method to achieve its interests.
Sisi also referred to the comprehensive economic reform underway in Egypt, said Bassam Rady, official spokesperson for the presidency.
"Egypt has embarked on a course of harsh economic reform that succeeded, thanks to the endurance of Egyptian people," said Sisi, pointing out that the Egyptian state was threatened three years ago with bankruptcy.
The president stressed Egypt's good intentions toward Sudan.
He pointed out that Egypt imports meat at US$30 billion from a country thousands of kilometers away, while Sudan is a meat-rich country.
"We can enrich each other, support each other and realize the hopes of our two peoples who are waiting for us a lot," Sisi mentioned.
President Abdel Fattah al-Sisi started a two-day visit to Sudan on Thursday, his first visit to Khartoum since his recent election for a second term.
The Sudanese President Omar al-Bashir, received Sisi on Thursday afternoon, at Khartoum International Airport.
Following the official reception ceremony, the two presidents held a session of talks at the Presidential Office at Khartoum Airport and then left for the Sudanese Republican Palace where a joint summit is scheduled to discuss issues related to boosting bilateral relations between Egypt and Sudan, as well as to discuss many African, Arab, regional and international issues of common concern.
Talks between the two presidents focused on means to maximize economic cooperation and enhance various aspects of joint cooperation in the fields of infrastructure, transport, agriculture and animal production, Rady said.
The volume of trade exchange between Egypt and Sudan is currently US$ 1 billion.
The volume of direct and cumulative Egyptian investments in Sudan is $2.7 billion, distributed on the fields of industry, contracting, infrastructure, telecommunications, banks, pharmaceutical industry, and others.
Egypt also established strategic projects for land reclamation in Sudan, including 100,000 feddans in Blue Nile State and an Egyptian meat production project on an area of ​​40,000 acres at the White Nile State.
Egypt and Sudan have a joint shipping company between the ports of Aswan and Halfa to transport goods and individuals.
The most important exports of Sudan to Egypt live stock worth $350 million annually, in addition to camels at $100 million, and gum arabic.
Sisi's visit to Khartoum is the fifth since he came to office in 2014, and the first since he was re-elected for a second term of office in March 2018. The president's visit to Sudan was in October 2016, during which he delivered a speech at the final session of the Sudanese National Dialogue.
Edited translation from Al-Masry Al-Youm