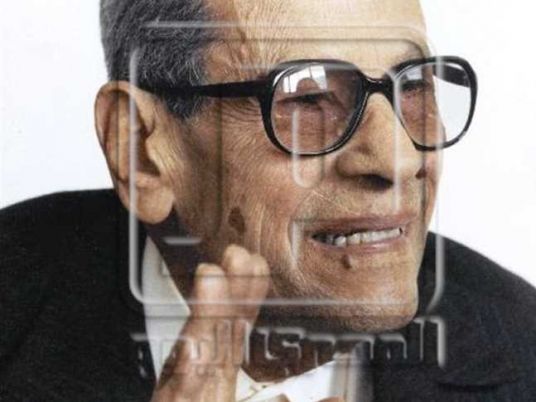 An Egyptian member of parliament (MP) said that late Nobel Prize laureate Naguib Mahfouz should have been put on trial for violating public morality, amid discussions to amend a law related to publishing crimes on Monday.
Parliament member Aboul-Maaty Mostafa was among a majority within the parliamentary committe for Constitutional and Legislative Affairs who rejected a proposal to amend Article 178 of the Egyptian Penal Code on Monday.
The proposal under consideration called for modifying the current law, which stipulates a prison sentence of maximum two years and fines for whoever manufactures or possesses materials that violate public morals. Instead, the ammendment would limit the punishment to a fine starting from LE5,000, not to exceed LE50,000.
When confronted by parliament member Ahmed Said who pointed out that some of Mahfouz's novels such as "Sugar Street" and "Palace of Desire" contained bold themes, Mostafa said that the late Nobel laureate should have been prosecuted as these novels violated the public modesty, but "no one filed a case back then."
Mostafa added that the constitution stressed the importance of protecting public morals and maintaining public order.
Mahfouz, who died in 2006 at the age of 94, was awarded the Nobel Prize in Literature in 1988. The Nobel academy noted in its citation for the prize that Mahfouz, "through works rich in nuance—now clear-sightedly realistic, now evocatively ambiguous—has formed an Arabic narrative art that applies to all mankind."
Egyptian author Ahmed Naji is currently serving a two-year prison sentence for publishing a sexually explicit excerpt from his novel "The Use of Life" (Istikhdam Al-Hayat) in Akhbar Al-Adab newspaper.
The Naji case dates back to 2014, after a reader filed a complaint claiming that reading the text caused him to "experience heart palpitations and an extreme feeling of sickness along with a sharp drop in blood pressure". Naji was accused of publishing "a text that spewed sexual lust and transient pleasures, violating public decency and good morals, and inciting promiscuity."