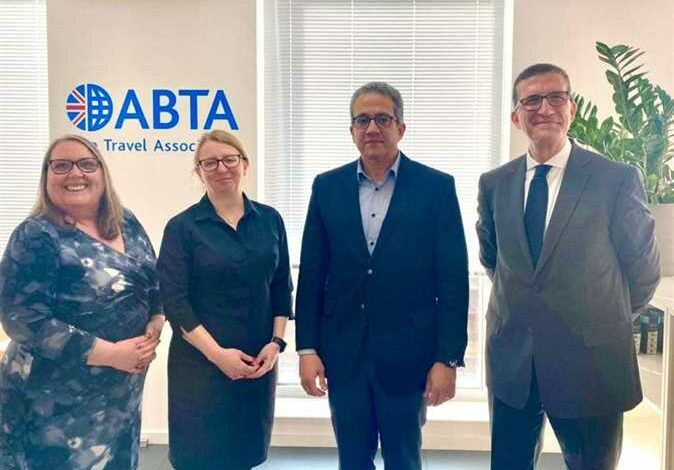 The Egyptian Minister of Tourism and Antiquities Khaled al-Anany held talks with the officials of the Association of British Travel Agents (ABTA), including the CEO of the association, Mark Tenzer, the Director of Commercial Relations at ABTA Susan Deer, and the association's Head of Destination Angie Hills.
Anany reviewed the most important developments in the tourism sector in Egypt.
He briefed the ABTA officials on all decisions that have been taken recently in order to achieve sustainable tourism development, and to transform the Egyptian tourism sector into something more green and sustainable, in addition to reviewing health safety procedures and training workers.
Anany listened to the proposals from ABTA officials to push and promote more tourist traffic coming to Egypt from Britain, given that it is considered one of the important tourist markets for the Egyptian tourist destination.
He also praised the British government's decision last week to remove travel restrictions to the southern part of South Sinai and Fayoum, as it became possible for British tourists to visit them at any time.
The meeting also touched on Egypt's efforts to return home all tourists left stranded due to various flight conditions.
Anany assured that Egypt is tirelessly working to provide the best means of service and care to all its tourists, no matter what.
With the coming of the spring and summer seasons, it will soon be an ideal period for English tourists to spend their holidays in Egypt, he added.
Anany is scheduled to hold other intensive meetings on Thursday with a number of tour operators dealing with the Egyptian tourist destination within the framework of his short visit.