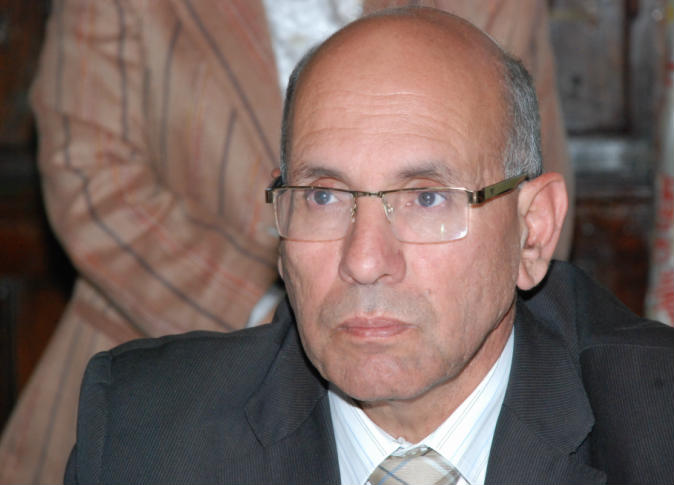 Egypt's agriculture minister was arrested in Cairo on Monday after being told to step aside in connection with an investigation into corruption at his ministry, judicial and media sources said.
Salah Helal "resigned on the orders of the president", a statement from the prime minister's office said.
He was detained after a meeting in the premier's office, a judicial source told AFP, speaking on condition of anonymity.
"He was arrested as part of an investigation into a major case of corruption in his ministry," the official MENA news agency reported.
Officials at the agriculture ministry are alleged to have taken bribes to help businessmen illegally acquire state land, a prosecution official and media reports said.
The prosecution service had last week banned media from publishing any information about the case.
Helal, 59, an agronomy graduate, rose through the ranks at the agriculture ministry to become minister in March.
Graft at many levels has blighted the Arab world's most populous country.
In July, a court sentenced a former prime minister of ousted president Hosni Mubarak to five years in prison for corruption and fined him millions of dollars.
Ahmed Nazif, whom Mubarak sidelined to appease protesters during the 2011 uprising that ended his rule, was convicted in his retrial of having used his position to make a fortune of $8.2 million (7.5 million euros).
The court also fined him $6.8 million.
Nazif had been accused of corrupt property deals and receiving illegal bonuses.
– Popular demand for accountability –
Mubarak and many of his former ministers were placed on trial following his overthrow amid popular demands for them to be held accountable for years of corruption.
Many former regime figures have been found not guilty in retrials, however.
In March, Mubarak's once feared interior minister Habib al-Adly was acquitted of corruption charges.
He was cleared of illegally accumulating around 181 million Egyptian pounds, and the court also lifted an asset freeze on him and members of his family.
Mubarak himself and his two sons Alaa and Gamal were sentenced to three years in prison earlier this year for corruption.
But they had been in detention for much of the past four years, and may be released early when time served is accounted for.
Many Egyptians looked upon Alaa and Gamal Mubarak as symbols of corruption during their father's three-decade rule.
All three were arrested in 2011, months after Mubarak was toppled in a popular 18-day uprising.
On May 9 this year, they and their father were fined 125 million pounds, the amount they were accused of embezzling from funds meant for the maintenance of presidential palaces.
The court also ordered them to pay an extra 21 million pounds.
President Abdel Fattah al-Sisi, before his election in May last year to succeed Islamist Mohamed Morsi, the man who succeeded Mubarak and whom he deposed while army chief, had pledged to stamp out corruption.
The retired field marshal said there would be no return to the corruption and human rights violations of the Mubarak era.