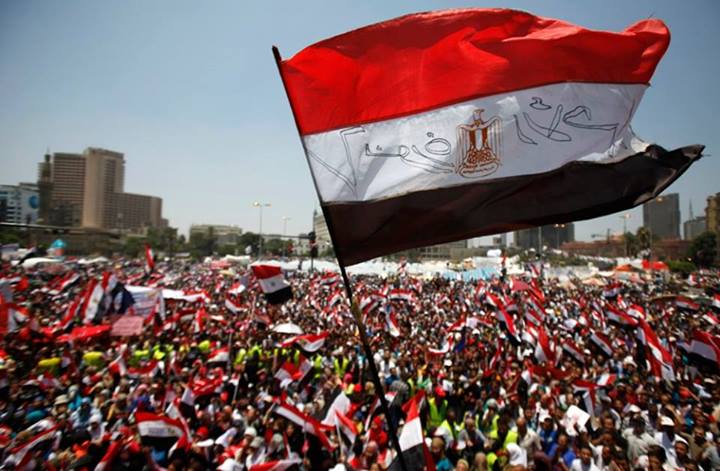 Egypt's interim president has made it a crime to disrespect the national flag or fail to stand for the national anthem, state media said on Saturday.
Some Islamist protesters added slogans or symbols to flags during protests after Morsy's overthrow.
Insulting the flag would now carry a penalty of up to a year in prison or a fine of LE30,000 (US$4,200), under interim President Adly Mansour's decree, the state news agency MENA reported, quoting his spokesman.
The red, white and black Egyptian flag is ubiquitous in the capital Cairo, where vendors sell the emblem on street corners and drivers fly it out of car windows.
It has become a common sight at demonstrations and celebrations since a 2011 uprising toppled President Hosni Mubarak – most recently as people celebrated Sisi's victory in presidential elections this week.
Under the decree, the flag and national anthem are considered "symbols of the state that must be honored and dealt with reverently and respectfully."
The law bans "raising, displaying or circulating the flag if it is damaged, used or faded, or in any other improper way" as well as forbidding adding slogans, pictures or designs to the flag, or using it as a commercial symbol.
Since Morsy's overthrow, Egyptian authorities have carried out a fierce crackdown against his Muslim Brotherhood, killing hundreds of the group's supporters during demonstrations last year and imprisoning much of its leadership.
On Saturday, the public prosecutor ordered the release of 228 Brotherhood supporters in the southern province of Minya due to a lack of evidence against them, the state-run Al-Ahram newspaper's website said.