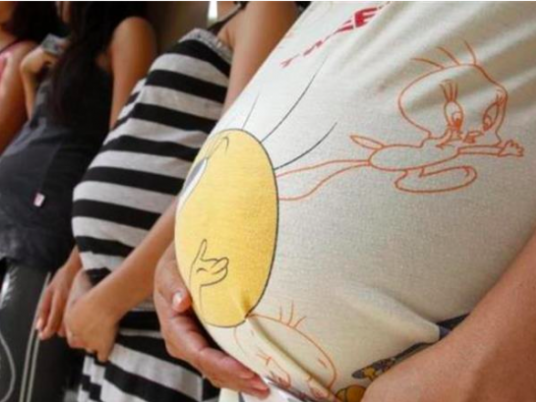 Egyptian President Abdel Fattah al-Sisi's new "Maternal Health Initiative" is set to launch in 5,300 health facilities across Egypt in the coming days, aiming to provide health screenings to pregnant women to detect and treat genetic and communicable diseases while raising awareness about maternal and reproductive health.
An official source with the Health Ministry said that a doctor and a nurse in each clinic are set to follow up on health screenings for pregnant women across the country as part of the initiative.
The initiative aims to detect genetic diseases likely to be transmitted from the mother to her unborn child, according to the source, who added that the program also hopes to raise awareness on the possible dangers of marriage between relatives and genetic diseases associated with the practice.
Meanwhile, communicable diseases transmitted from the pregnant mother to her child include syphilis and Hepatitis C, the source from the Ministry said, adding that the initiative Includes screenings for Hepatitis B as well. An infection of Hepatitis B during pregnancy may lead to bleeding in the last trimester or a premature birth.
He explained that syphilis can be transmitted from the pregnant mother to the fetus and has been linked to birth defects, which increases the risk of miscarriage, stillbirth, or death of the child shortly after he or she is born. He added that the mother might be unaware that she had contracted syphilis, especially since the STD often does not show symptoms.
Primary care, population and family planning sectors held a meeting on Wednesday and identified a package of services for pregnant women in primary care units and family planning centers, the source added.
The Maternal Health Initiative also aims to raise awareness on reproductive health, hoping to educate on safe methods of contraception and family planning across the country, the Ministry source said.
Early detection of adverse conditions associated with pregnancy and information on maternal health and nutrition are also cornerstones of the new program.
Edited translation from Al-Masry Al-Youm