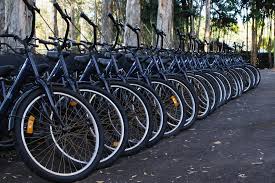 The Ministry of Youth and Sports, headed by Dr. Ashraf Sobhy, will soon launch a national sports initiative under the slogan "A Bike for Every Citizen."
The initiative aims to change the daily culture of transport for citizens, improve their fitness and health, and encourage them to use clean means of transport that reduce fuel consumption and do not pollute the environment, according to the Cabinet's official Facebook page.
A press conference is scheduled to announce the initiative in September.
It will be promoted in all state bodies and institutions in the governorates over several stages, beginning in Cairo and Giza.
Bikes will be made available to the public at an affordable price (below the market price) in cooperation with bicycle companies, and payments will be dealt with via an installment system through banks.
This comes as part of the state interest in expanding the practice of sports amid concern for the health of citizens. Sports contribute to sustainable community development.
Edited translation from Al-Masry Al-Youm