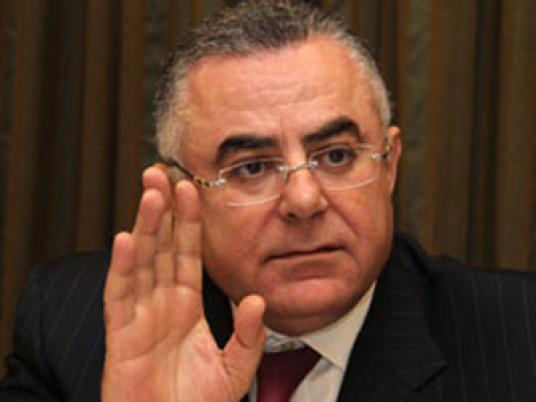 Egypt's government is in the late stages of verifying its economic reform programme with the International Monetary Fund (IMF) before obtaining a $4.8 billion IMF loan, its central bank governor said on Saturday.
The loan, needed to help stabilise Egypt's balance of payments and state finances, has been under discussion for two years but agreement has repeatedly been postponed by political unrest in the country and the government's reluctance to commit to austerity measures.
"The IMF is verifying numbers with the government regarding the programme and they are in late stages of verifying all the numbers," central bank governor Hisham Ramez told reporters after a meeting of regional central bank chiefs in Abu Dhabi on Saturday.
There have been no changes to the plan or the amount of aid the country is seeking, he added.
"The programme is as it was planned by the Egyptian government. It is $4.8 billion that they have been talking to them about."
He said he could not offer any estimate for when the talks would finish, adding that as far as he knew, there were no talks underway with other countries for Egypt to obtain fresh financial aid in the form of deposits in its central bank.
Last month, the IMF's Deputy Managing Director Nemat Shafik told Reuters that the Fund was ready to sign the loan agreement with Egypt before or after the next parliamentary elections, but it was up to the government to move forward.
The IMF expects Egypt's budget deficit to widen to 11.3 percent of gross domestic product in the fiscal year which ends in June, the largest gap since 2002, from 10.7 percent in the previous year, it said in a regional outlook published in May.
Egypt's central bank foreign currency reserves stand at $16 billion, Ramez said, referring to the latest published number. The reserves rose for a second consecutive month in May, boosted by deposits from Qatar.
"I'll be happy only if the reserves grow by the economy and not deposits," Ramez said when asked if he was comfortable with the level of reserves now.
Qatar deposited $3 billion at the central bank on May 9, but the bank sold about $800 million two weeks later in a special foreign exchange auction to help importers pay for essential imports.
"Our direct intervention with exceptional auctions in April and May had a big effect on inflation," Ramez said.
Asked whether it eased pressure on the central bank to tighten monetary policy, he said: "You can see from the numbers that it (inflation) is better than expected." He declined to give any inflation forecasts.
Egyptian inflation edged up to 8.2 percent in the year to May, boosted by food prices and a weaker currency.
Asked about Morgan Stanley Capital International's warning this week that Egypt could eventually be excluded from the MSCI Emerging Market Index used by many international fund managers, because of investors' difficulties in repatriating money, Ramez said: "They were talking about the availability of foreign currency."
"From our side, we opened the Repatriation Fund in March for any funds coming into stocks or the fixed income side. So anything that comes can go out at any point, there's no problem."
In March, the central bank opened a scheme giving foreign investors in the stock and government debt markets access to dollars despite severe shortages of foreign currency.
Egypt's bourse tumbled to an 11-month low on Wednesday after MSCI's warning.