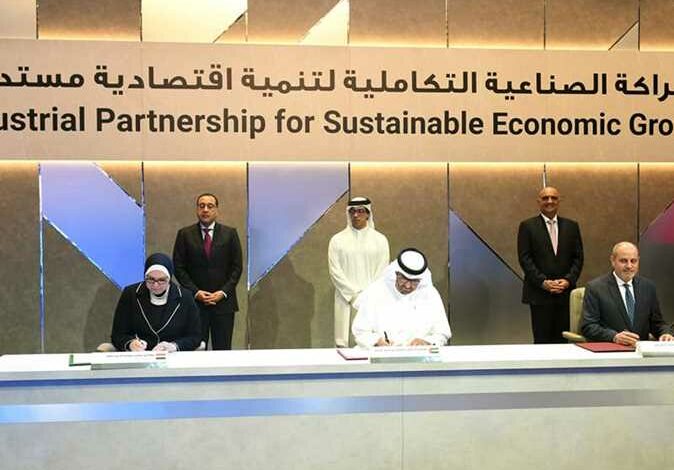 Egypt, the UAE and Jordan signed on Sunday signed a document to launch the "Integrative Industrial Partnership for Sustainable Economic Development" initiative.
The signing ceremony was attended by Egyptian Prime Minister Mostafa Madbouly, Jordanian Prime Minister Bisher Al-Khasawneh, and UAE Deputy Prime Minister and Minister of Presidential Affairs Sheikh Mansour bin Zayed Al Nahyan.
The document was signed by Egypt's Minister of Trade and Industry Nevein Gamea, UAE Minister of Industry and Advanced Technology Sultan Al-Jaber, and Jordanian Minister of Industry, Trade and Supply Youssef Mahmoud Al-Shamali.
The signing of the document came at the conclusion of the tripartite meeting, which was held on Sunday morning between Egypt, the UAE and Jordan at the ADNOC Business Center in the UAE capital Abu Dhabi.
A statement issued by the meeting said that the initiative aims to establish integrated industries that contribute to diversifying the economy, promoting its growth and providing specialized job opportunities.
The statement added that the signing of the initiative comes from the guidance of the political leaderships in Egypt, the UAE and Jordan.
It comes in line with their firm conviction to develop the industrial sector in each nation and to enhance the utilization of advantages, resources, capabilities, raw materials, capabilities and expertise, geographical locations, logistical capabilities, huge transport infrastructure, and smart financing solutions.
This partnership is based on a set of strategic goals: the first is to develop industries capable of competing globally.
The second goal of the partnership is to achieve secure and flexible supply chains, through joint work to search for ways to enable this partnership to use the opportunities offered by the availability of complementary chains in the three countries.
This will lead to improving economic security and ensuring protection from price fluctuations.
The third objective of the partnership is the pursuit of sustainable growth, by utilizing renewable and low-carbon energy sources.
While the fourth goal of the partnership is based on promoting growth and the integration of value chains and trade between the three countries, through joint action to develop value chains within and through the economies of the three countries, in a manner that ensures flexibility, self-sufficiency, integration, and the development of intra- and external trade.
The latest partnership objectives included promoting value-added manufacturing sectors, by focusing efforts on manufacturing sectors in value chains that achieve and add significant economic value.
The initiative identified vital areas of common interest, which will be focused on during the first phase to deepen the comprehensive industrial partnership between the three countries, foremost of which are the fields of agriculture, food, fertilizers, medicines, textiles, minerals and petrochemicals.