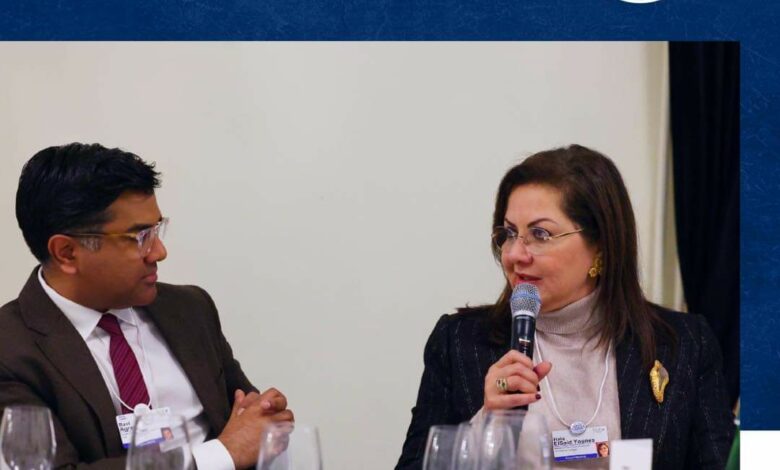 Egypt's Minister of Planning and Economic Development, Hala al-Saeed, participated in a round table discussion held in cooperation between AstraZeneca and Foreign Policy, entitled "Early Action and Sustainable Financing for the Prevention of Non-communicable Diseases".
This is part of the 53rd edition of the World Economic Forum in Davos, Switzerland.World Economic Forum in Davos, Switzerland.
During the meeting, Saeed stressed the importance of a strong and advanced health care system as the cornerstone of a resilient society and economy.
Saeed stressed the vital AstraZeneca report in which the raising of awareness of the disease was paramount.
Accessible information about its causes, symptoms and treatmentswere all stated as part of the Egyptian health campaigns including the "100 million Healthy Lives" campaign in 2018 for early detection of the hepatitis C, and non-communicable diseases.
According to Saeed, the campaign resulted in the treatment of 2.2 million citizens infected with hepatitis C, and the diagnosis and treatment of nearly ten million citizens suffering from non-communicable diseases.
Health care vehicles that roamed governorates were used in the campaign, supported by a strong media campaign.
Saeed also referred to the initiative for early detection and treatment of breast cancer, explaining that the campaign was implemented on three phases to test 28 million women and provide free treatment for them.
Of great importance also was investing in digital innovations and integrating them into the health care system, saying it would lead to a revolution in data generation and retention.
There needs to be a continuous effort to digitize health records, which would contribute to forming an accurate data base and reducing medical errors to avoid health complications.
Saeed touched on a number of other health care initiatives in Egypt, referring to the blood plasma project, which aims to ensure providing treatment for many chronic diseases.
These include liver and kidney diseases.
She explained that plasma collection services are available in six centers in five Egyptian governorates.
She also referred to the initiative to eliminate waiting lists at government hospitals, as well as the family development project, which aims to enhance the health of women and children by focusing on raising reproductive health services.
Saeed also referred to another initiative for early detection of anemia, obesity and dwarfism for primary school students, and the "Noor Al Hayat" initiative to address visual impairment through early diagnosis and treatment.
There is a plan put in place that has been developed to examine five million students in the primary school stage and two million for the most vulnerable citizens, providing a million medical glasses, and 250,000 eye surgeries to them.
Saeed referred to an initiative to treat hearing impairment, where more than a million newborn children were examined since its launch in 2019.