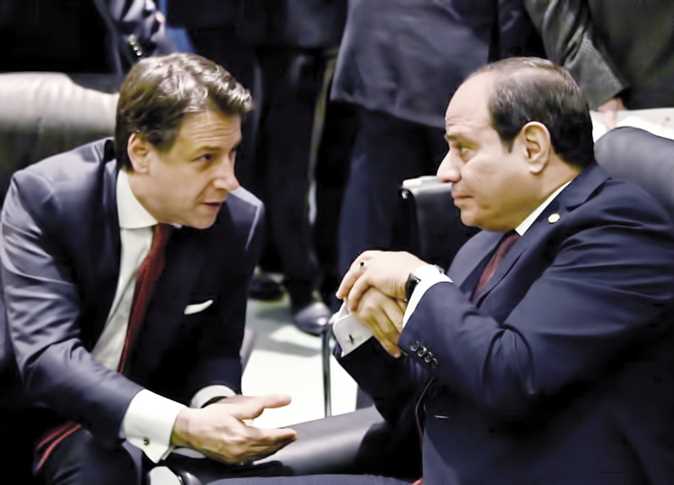 Egyptian President Abdel Fattah al-Sisi received a phone call from the Italian Prime Minister Giuseppe Conte on Friday, where they discussed topics of bilateral relations such as the Regeni murder case and other issues.
Sisi and Conte exchanged views on regional issues of common interest, foremost of which are developments in the Eastern Mediterranean region and the Libyan crisis.
The two sides also reviewed the ongoing investigations into the murder of Italian student Giulio Regeni.
The Italian Prime Minister expressed his country's keenness to continue strengthening bilateral relations between both countries, especially regarding trade, investment the and military.
This is in addition to further consultation with Egypt regarding developments in regional issues and ways to resolves crises in the Eastern Mediterranean and Middle East.
Sisi hailed relations between Cairo and Rome in various fields such as politics, economy and the military, and the cooperation both shades exchange to address many challenges in the Eastern Mediterranean region – such as combating extremist ideology and terrorism.
Sisi stressed the importance Egypt attaches to developing the various frameworks for joint cooperation between the two countries, as well as coordination and consultation on various regional issues.
Russia called on Thursday evening to put an end to the supply of weapons and the transfer of mercenaries to Libya.
And the Acting Special-Representative of the UN Secretary-General for Libya Stephanie Williams said that while current developments in Libya are hopeful, the situation remains fragile.