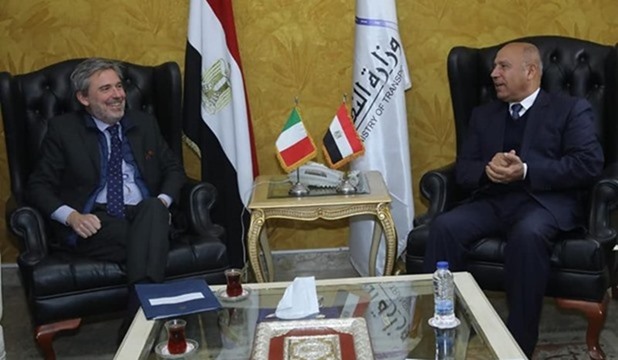 Transport Minister Kamel el Wazir met on Wednesday 15/2/2023 with Michele Quaroni, the Italian Ambassador in Cairo, to discuss maritime transport cooperation.
Attending the talks were the heads of the maritime transport sector and the Damietta Port Authority.
Wazir hailed as "deep" relations between Cairo and Rome, stressing the importance of transport cooperation between the two sides.
He underscored President Abdel Fattah El Sisi's keenness to upgrade the maritime transport system to turn Egypt into an international hub of trade and logistics.
The meeting also tackled the operation of a RORO line between the ports of Alexandria and Damietta in Egypt, and that of Trieste in Italy to ferry perishable agricultural crops.
For his part, the Italian diplomat said his country pays big attention to operating the shipping line between the two sides with the aim to reduce the time of shipment and delivery of Egyptian products to Europe.
This, Quaroni added, should also encourage Italian businessmen to establish factories in Egypt in order to benefit from its promising investment climate.
MENA