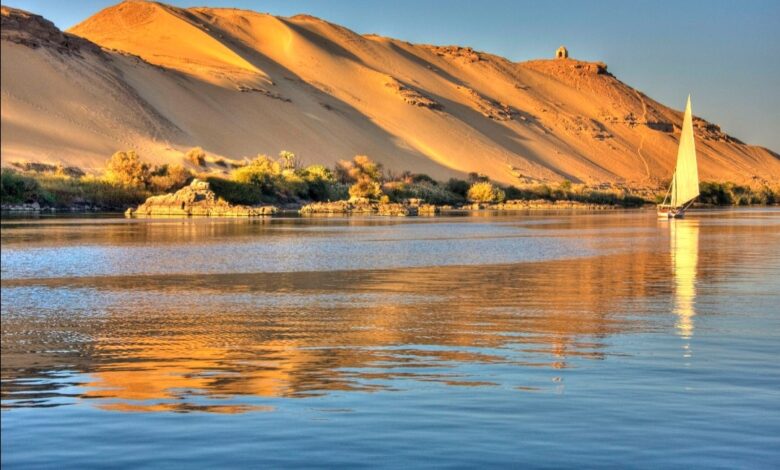 The Egyptian Minister of Irrigation and Water Resources Hani Swailem said that Egypt faces challenges in its water capacity.
Egypt is one of the driest countries in the world and more than 97 percent of Egypt's renewable water resources come from outside its borders.
He added that the average rainfall does not exceed 1.30 billion cubic meters annually, which represents only 2.30 percent of Egypt's renewable water resources.
Swailem stressed that water renewal is one of the main goals to achieve sustainable development, in light of the negative effects of climate change.
This calls for urgent action  to confront these challenges, meet current water needs and achieve water security for future generations.
The importance of estimating and understanding the value of water for its important role in human life and survival, is one of many goals moving forward.
This was highlighted in his speech during the activities of the Second Investment Forum in Water between the European Union and the African Development Bank, on Monday.
He pointed to the rise in temperatures and the resulting rise in water consumption.
There is also the unexpected impact on rainfall rates in the Nile, and the impact on the Egyptian coasts, especially the coasts of the Nile Delta.
Swailem pointed out that Egypt will spend US$ 50 billion until 2037 to achieve water security and deliver water to beneficiaries.
He stressed that investment in the water sector is the key to sustainable development because it meets many interrelated needs (irrigation for food security – provision of drinking water and sanitation – reducing pollution by promoting wastewater treatment).
The Minister stressed that there is an urgent need for large and long-term investments in water infrastructure, smart farming systems, improving the drainage system, and flood protection.
Swailem added that this comes by systematically utilizing all sources of financing, expertise and solutions to support sustainable growth in developing countries, with the importance of mobilizing resources beyond traditional financing tools and exploring alternative financing methods, emphasizing the importance of increasing reliance on the private sector in financing water projects.